Braemar Heating & Cooling
Cost Effective Heating & Cooling
With any service performed*
Limited time only, offer ends . Not to be combined with any other offer.
*Offer to be presented at point of booking or sale.
Braemar Climate Control
Products
Braemar offers industry-leading heating and cooling solutions perfect for the Australian climate. Whether you are looking for climate control products for a single space or the whole home, Braemar has your needs covered.
Offering award-winning products, Braemar Australia can provide you with energy-efficient, safe and reliable home heating and air conditioning. You can trust Braemar Australia, a recognised and trusted brand, to provide you with the right heating and cooling solution for your home or office.
Braemar's heating and cooling systems are designed to meet your needs. The Braemar range includes top-of-the-range fixed evaporative cooling, gas space heaters, ducted gas heating, wall furnaces, ducted add-on cooling systems, ducted inverter reverse cycle, multi-system air con, ducted fixed speed reverse cycle systems and single space wall-mounted inverter split systems.
With an extensive range like this, you can't go past Braemar Australia for your heating and cooling requirements. There's a Braemar solution to suit every Aussie home.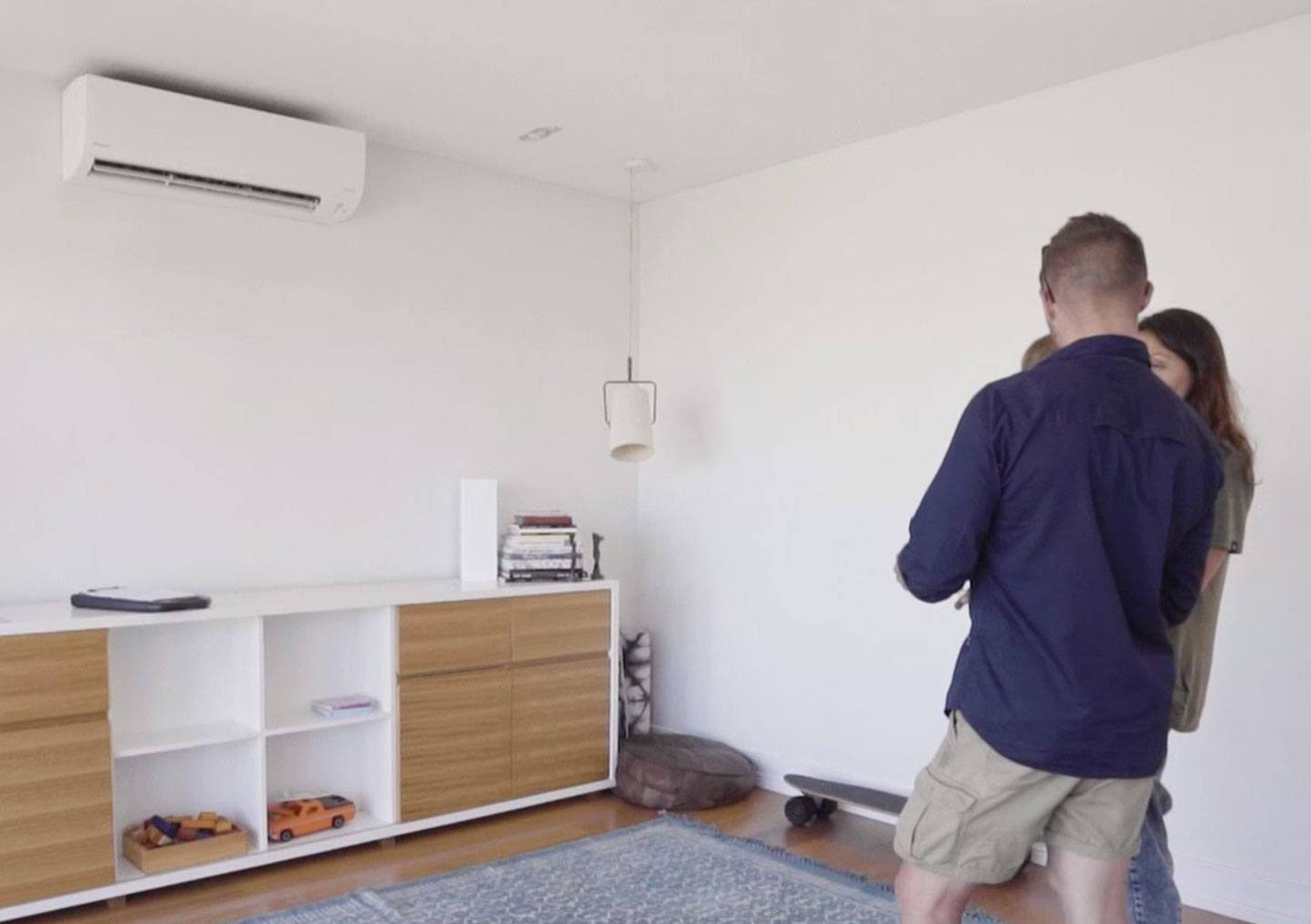 Schedule an appointment with
one of our specialists today.
100% Australian Made,
Designed & Owned
You'll be delighted to know that Braemar climate control products are 100% Australian designed, Australian made, and Australian owned. With over 80 years of history and industry experience, Braemar knows exactly what Australians need to stay cool and comfortable. As Australia's heating and cooling experts, you can trust Braemar to keep you cool in summer and toasty warm in winter.
You can also feel comforted knowing that as an Australian owned brand, Braemar is contributing to the Australian economy and supporting local employment. And by using Braemar for your heating and cooling needs, you are supporting Australia too.
You can rely on consistent supply, build quality and availability of parts and after-sales service when you choose one of Australia's best climate control brands.
Braemar Ducted
Gas Heating
There is nothing worse than waking up to a cold home on a chilly winter morning. Braemar Australia's products can help keep you warm and cost with a wide range of ducted gas heating systems to suit every situation and budget.
 With ducted heating from Braemar, you can enjoy reliable, comfortable, instant and consistent heat throughout your entire house, keeping you and your family warm during the cooler months. 

The benefits of ducted gas heating systems from Braemar are boundless. Not only is ducted gas heating safe, reliable and energy-efficient, but it is also cheaper to run than many other heating systems.
 By installing a modern ducted heating system, you and your family can significantly reduce your future energy bills. So if you are building or renovating, now is the perfect time to replace your older, inefficient heater with a new Braemar ducted gas heating system.

A ducted gas heater will reach your desired temperature more rapidly than a reverse cycle heating system. As an added benefit, you can control Braemar ducted heating via one or more MagIQtouch smart controllers throughout your home, giving you control across multiple zones. 
This means varying room temperatures can be selected, and you can pre-program your heating system to suit your schedule and save energy at the same time. With flexible installation types to suit all homes and customisable zoning options, Braemars ducted gas heaters are the ideal option for your home.
How Does Braemar
Ducted Gas Heating Work?​
There are four key components to a ducted gas heating system from Braemar:
These four components will work together to heat your home through gas combustion. The insulated ducts transport air to and from the heater, while the vents distribute the air into the individual rooms and return it to the heater. 
A thermostat will be installed in a central zone in your home, sending signals back to the central heating system to determine if it needs to cycle on, cycle off, or maintain the desired temperature.
The experts at Alliance Climate Control can help you install your new Braemar ducted gas heating system. Our team of fully licensed and insured in-house technicians will come to you and install a heat exchanger on the outside of your house and place vents and thermostats throughout your home.
Schedule an appointment with
one of our specialists today.
Braemar Ducted Heating
Product Range
Get value for money and proven reliability with the Braemar Ecostar range. This easy to operate system comes with add-on cooling systems available for most models and zoned heating capabilities.
The Braemar Rebuff range is designed to replace the Brivis Buffalo and other outdated heater models and brands. This is perfect if you are renovating or upgrading. This system includes a gas inlet pipe to match your existing gas supply location.
These products provide outstanding efficiency and low running costs. The range boasts the highest star ratings with zoned heating capabilities and add-on cooling systems available for most models.
Schedule an appointment with
one of our specialists today.
100% Australian Made,
Designed & Owned
We Are cm3
Qualified Contractors
Cm3 certification is a Work Health & Safety (WHS) prequalification system. Being Cm3 certified, means our business has demonstrated the highest-level health and safety capabilities as well as having the right insurances and licences to protect our customers. Using a Cm3 certified technician is crucial to ensuring you and your project are in safe and protected hands.
Braemar Gas Space Heaters
& Wall Furnaces
Braemer Australia also offers a comprehensive range of gas space heaters and wall furnaces to provide the ultimate comfort to your home. Braemar space and wall heating products are tailored to suit rooms of any size while maintaining an elegant design.
Braemar's wall furnace gas heating systems are ideal for those who want to effectively heat their home without compromising on style. These systems are stylish and sleek so that they won't become an eyesore in your home. 
These wall furnace heating systems are better for the environment and energy-efficient, saving you on running costs. They also boast excellent safety features, including child locks, cool-to-touch cabinets and overheat safety switches.

Braemar Gas
Space Heaters
Braemar's range of gas space heaters are ultra-efficient at heating your home. These systems work through gas combustion; by passing cold air over a heat exchanger creating warm air that is then pushed through a vent into a room.
 Braemar's space heaters are flued, which means they expel the gases produced outside, so the air in your home remains free from pollutants. These gas heating systems are both efficient and energy-saving and come with a 4.8-star gas energy rating.
Braemar Cooling:
Air Con & Evaporative Cooling
Braemar Australia also offers top of the range air conditioning and evaporative cooling systems. The technology used in evaporative cooling allows you to cool your home by using fresh air from the outside. This simple yet effective air-con system is ideal for people who suffer from blocked sinuses and dry skin often caused by traditional air conditioning units.
Additionally, Braemer also offers ducted air conditioning, split system air conditioning and multi-system air conditioning systems, giving you the freedom of choice when it comes to cooling your home.
The team at Alliance Climate Control can manage the installation of your Braemar evaporative cooling system. With free onsite quotes available, get in touch with Alliance Climate Control to cool your home with a Braemer evaporative cooling system this summer.
Braemar Evaporative Cooling
Solutions
The hot summer months can be uncomfortable and costly if you resort to running a standard air conditioning unit for the entire season. With an evaporative cooling system from Braemar, you can keep your energy bills down and your home cool throughout the warmer months.
Investing in an evaporative cooling system from Braemar can benefit your home in a variety of ways. One of the greatest advantages of evaporative air conditioners is that they are eco-friendly.
 As well as being better for the environment, they are also better for your own health, as they filter natural, cool and fresh air throughout your house. Additionally, these home cooling systems are also easy to maintain, have effective water usage, flexible security and operate quietly.
How Does Braemar Ducted
Evaporative Cooling Work?
An evaporative cooling system comprises of three key components:
As the name suggests, this system is based on the principles of evaporation. The hot and dry air outside of your home is pumped through the water-soaked cooling pads in your air conditioning machine using an evaporative cooling fan. The water is then evaporated, it is pushed through the cooling pads, and the 
heat in the air gets absorbed. This in turn lowers the air temperature. The fan in the air conditioning unit then pushes this cool air around your house via the network of ducts. This is a relatively simple system that works effectively and efficiently in all homes.
When you use an evaporative cooling system, a door or window needs to be left open in your home to allow the air to escape since, with these systems, the cooled air inside your home is not recirculated. This is to make sure the air in your home stays fresh and clean.
Schedule an appointment with
one of our specialist today.
Braemar Ducted
Air Conditioning
A Braemar ducted air conditioning unit is an excellent choice for cooling and heating your desired space. This system is the cleanest, quietest and most energy-efficient option for heating and cooling. A ducted system from Braemar can provide different temperatures simultaneously so everyone in the home can live comfortably.
A ducted air conditioning system from Braemar consists of an air conditioning unit that is conveniently located in the roof or under the floor. This unit connects to a heat exchanger cabinet which is located outside of the home. Both units are connected to a ducted system that connects to each individual room vent throughout the home.
The benefits of a ducted air conditioning system include:
Installed 10,000+  New Air conditioning units
Help over 15,000+ Awesome customers
Combined 100+ years experience
Trusted team 70+ Air conditioning, Electrical & Plumbers
Replaced over 10,000+ Air conditioning units
Maintained 15,000+ Air conditioning units
Braemar Split System &
Multi System Air Conditioning
Braemar Split System Air Conditioning
A split system air conditioning unit from Braemar Australia is ideal for someone who only needs to cool or heat one room of their home or office.
This system consists of two simple parts, a wall-mounted unit for inside that releases cool air into your home and an outdoor unit that eliminates the heat from the cooled area. A Braemar split cooling system unit is also referred to as an inverter air conditioner.
These systems host a range of benefits, including:
Braemar Multi-System Air Conditioning
Braemar Australia can also provide your home with a high-performing multi-system air conditioning unit. These systems are an effective and efficient way to cool your home or office.
A multi-system air conditioner comprises a compressor and a condenser coil in an outdoor unit. This unit can connect to up to five indoor units that can each be set at different temperatures.
Braemar offers multi-system air conditioning units in various styles, including wall-mounted split systems, ceiling mounted cassettes and bulkhead ducted units.
A Braemar multi-split system air conditioner will offer you the following benefits:
Schedule an appointment with
one of our specialists today.
Braemar Combined
Heating & Cooling
Get the best of both worlds by installing a combined heating and cooling system from Braemar Australia. An evaporative cooling system and a ducted gas heater can both be installed in your home to provide you with year-round comfort. If this doesn't sound appealing enough, both your heating and cooling system can typically be controlled by one single controller. Talk about convenience!
The ducted gas heating and evaporative cooling systems available from Braemar Australia use cutting edge technology to bring the most energy-efficient, Australian made heating and cooling systems to your home.
If you already have a Braemar ducted gas heating system installed in your home, no problem; you can simply opt to install an add-on cooling system to complete your setup. These add-on systems are economical and compact, which are great to add year-round comfort to your home without breaking the bank.
Braemar offers Australia's first and only true inverter add-on cooling system, the Invertair. Alternatively, you can opt for the SACC series. This innovative system can be installed at the same time as your ducted gas heating system or added on later.
Benefits of Combined
Heating & Cooling
A combined heating and cooling system from Braemar is an excellent choice for all homes and offices. What is better than year-round comfort?
 You'll get the best of both worlds with heating in winter and cooling in summer with one of Braemar's combined systems. You'll also enjoy the added benefit of convenience and access to cutting-edge technology with a MagIQtouch controller to manage your system.
There is a range of benefits you can enjoy by choosing a Braemar add-on cooling system:
Schedule an appointment with
one of our specialists today.
Braemar MagIQtouch
Controller
As part of Braemar Australia's innovative approach to heating and cooling systems, a variety of their products come with the MagIQtouch next-generation controller. Its sleek, modern design will blend seamlessly into any home. This smart technology takes Braemar's heating and cooling solutions to the next level.
The MagIQtouch controller is both simple and functional. You can use the smart controller to switch your system on and off, check and change the temperature and easily switch from heating to cooling. In addition, the MagIQtouch can create customisable programs, install child locks, create home zones, and activate an energy-saving mode.
If you want to take this smart heating and cooling technology to the next level, you can opt to upgrade your controller to a wireless or wi-fi enabled version. This unique technology is compatible with Braemar's evaporative air conditioners, ducted gas heaters, add-on cooling systems and CW3 dual systems.
Braemar Heating & Cooling Servicing
The team at Alliance Climate Control is fully equipped and certified to service your Braemar heating and cooling systems. Our technicians recommend servicing your heating and cooling systems annually to ensure your unit is functioning correctly and safely.
By booking a service for your Braemar heating or cooling product, you will enjoy improved indoor air quality, lower energy costs, better performance and potentially prolong the life of your system.
Aside from annual preventative servicing and maintenance, our team at Alliance Climate Control can also carry out repairs for your Braemar system. If you are experiencing any of the following issues, give our team a call:
Call the team at Alliance Climate Control on 02 8061 5023 to repair your Braemar heating or cooling system today and get your home back to a comfortable temperature.
Schedule an appointment with
one of our specialists today.
What Our Community
Is Saying About Alliance


Excellence
based on 800+ reviews
Thanks to Kevin, Martin and team for installing our A/C back in Feb! Great team & service, highly recommend. Rebecca and Huw.
Great service, Very professional and great products, Attention to detail on Installation. Will defiantly use this company again. Comes highly recommended.Great work B.J , Peter, J.J, Chris & Goran
Matt and Aiden from Alliance handled our recent Multi-split installation at a terrace in the Inner West. They worked tirelessly to get both units installed, took care during the installation to not only get everything placed well, but kept the home

...

tidy as best they could as well. Two electricians came to do the wiring (sorry, don't have their names), who similarly did a good job in a relatively tricky build (switchboard at back of house, AC units at front).Everything is working well so far and we've been happy with the quality of works. We had used Alliance several years ago for an AC install in an apartment, and that was of similar high quality. We still readily recommend Alliance to friends and family.

read more
Goran was my first real interaction with Alliance. He was on time and knew every aspect of the job. He was thorough and you felt you were in good hands. Compared to other companies that quoted Goran was just superior in every aspect of his

...

approach and product knowledge. He knew the system would require a lean to attachment to fit the space, he took time to explain that when asked and was responsive to all my questions. The installation team were polite, on time and did a great job (Martin and Ash) even going out their way to show me the operations of the thermostat and setting it up for me.Thanks so far so good.Andrew

read more
Professional service provided by the whole team I dealt with being Goran, Jonathan, Thomas, and Zac everyone knew their job and performed it exceptionally. Customer service was great and performed with a smile taking time to explain all the work

...

performed so we were kept informed and understood the entire process.

read more
Lads were great, we had Jonathan, Tommy, JJ and Chris do our apartment which was no simple task. All boys were nothing but professional and did the job to what are expectations were and even more. The best part these blocks also showed humanity and

...

were always up for a good chat. Couldn't recommend more

read more
Great team thanks Dee, Shadi, Rodriguez, Kirk and Zac for good humor and good quality work.
5 star service - prompt, efficient, friendly and courteous.
Martin, Brandon and Andres were very hard working, efficient and very informative. I would highly recommend this service. Cate
A seamless experience from the initial email and phone contact (Mellisa), the quote (Darko), the invoicing (Zac & team) and the installation (B.J & Josh). Communication was excellent and the work carried out very professionally. The work area was

...

left spotlessly clean. Thank you.

read more
Jonathan, Thomas, Tory and Zac were all fantastic! Great service throughout, customer focused and solutions oriented. What could have been a difficult and labour intensive job was handled with efficiency and great care!
Matt and Aiden were very professional, punctual and polite - they even wrapped up the indoor unit for me after installation when I asked because we were going to be doing more renovations and I didn't want our AC to get dusty! I didn't even have to

...

clean anything afterwards, they were very tidy. Great experience overall.

read more
Excellent service. Arrived on time, very professional and thoroughly polite.Jonathan and Thomas are a credit to your company.We would highly recommend.Thank you.
Great service. Prompt and efficient, cleaned up afterwards. Could not fault them.
We had this company install a large daikin air conditioning and heating system. The guys were efficient, very professional and explained everything to us so that we use the unit efficiently. Martin and Peter were lovely and they even cleaned up

...

afterwards. Would highly recommend these technicians.

read more
Excellent service by installers Kevin and Brandon. Professional, clean and tidy installation.
Very professional crew , nice , polite . Job done with high quality installation . Very happy with it
Service was very good.Gabriel was pleasent and professional.
Kody was on time, polite, and professional.
A big shout out to all the Alliance CC Team. From the initial quote with Tori and his ability to think outside the box for a solution to the fantastic install team: Harry, Andre, Aiden & JJ. They explained everything so well, weren't afraid to

...

confirm their ideas would suit us (where power runs would go, etc) and were timely (and performed very neat work including their tidied up!). Highly recommend the Alliance CC Team.

read more
the installers jonathan, thomas, noah were great.
Thanks so much for a great job,Dee,Shadi,Rodriquez,Mattel,& JJYou are all gentleman.CheersLynne
Harry, Mahran and Andre did an amazing job in installing our deducted air conditioning. Work area was clean, service was installed efficiently and they ensured that I was up to date and informed with what they were doing! System use was demonstrated

...

and explained patiently- definitely a 5 star job!

read more
Jonathan, Thomas and Noah were very professional, careful and polite. It was like the good old fashioned service that tradies used to give years ago that is so missing these days from many companies. Well done boys and Alliance.
We had Alliance Climate Control install a multi room aircon in our apartment. Jonathan and Thomas did a fantastic job and were professional, courteous and polite. We would recommend them to anyone getting this type of work done.
Jake was very personable and thorough. A pleasure to do business with.
We had a fully ducted AC installed yesterday. Kevin, Martin, and Brandon showed up on the specified time, with a 30min call beforehand. Very nice to know they were on their way. On arrival, there was an issue with the brand of AC agreed too, but it

...

was a mixup that was handled extremely well and solved within 30mins. The guys started the ducting work while waiting on the correct AC unit to arrive. I was kept informed all day with all the installation process, and they made excellent decisions on the positions of the outdoor unit and the indoor vents. How they got the massive unit onto the roof was most impressive! I must also mention Ben, who quoted the job. He was the only person of 3 companies who took the time to go into the roof to see what they were dealing with, which I considered most important. The job was more expensive than the other quotes I received, but we'll worth it, after seeing the professionalism and attention to detail as Alliance showed. I can highly recommend Alliance for any AC installation, as they were the most professional company I have dealt with in the many years I have undertaken the many projects I have had done. Thank you, Alliance Climate Control!

read more
We had the team of Tim, James and Kai install a large system, where they also had to decommission an old system first.They were fantastic throughout, kept us informed, were very accommodating in working around us, and did their best to keep a clean

...

job site.I would recommend this team to anyone fitting a large air con system in Canberra.

read more
Jonathan and Thomas did an excellent job!!
They called 30 minutes prior to arriving; and they arrived on time. They performed the AC maintenance in a short time frame, and explained the points of concern. Gave a clear explanation as to the available options to resolve those points of

...

concern.when presenting the invoice they also explained in detail what was performed during the maintenance. All was left nice and tidy.

read more
Martin and Aidan were on time,Professional, engaging thru the installation process and cleaned up after the job
Excellent service. On-time. Clean. Friendly
Shazim did a great job looking after my ducted air con maintenance, including fixing a dodgy AC installation in the apartment where no A/C service panel was installed . Would highly recommend this company's services. Very easy to book with and

...

everything is professionally managed with what appears to be a very modern booking system.

read more
Always efficient and very clean in servicing. Pleasant technicians who know what they are doing and offer good advice. Company's additional services (eg electrical) provide an all in one service. Very happy with company and its staff/technicians.

...

Have been using for over 4 years and have recommended them to friends and family as well.

read more
Astonishing air conditioning replacement and installation work / teamwork / team spirit throughout what it may seem to be a long day, turned out to be a wonderful thanksgiving day of ours !We were constantly / are still much in awe of Jonathan and

...

his team (Thomas, Brad and James)'s extraordinary replacement and installation work at our place !It was overall an eye opening experience, with contentment and with a peace of mind for us to see how our new air con being installed and starting to work beautifully, right from the beginning till the end.Rest assured to go for Alliance if you are looking for brilliance in : promptness, knowledge, skills, efficiency and thoroughness in taking care of every single details of the installation work and customer service / communication - - all these exquisite qualities we witnessed in : Thomas, Brad, James and especially the team leader Jonathan who demonstrated superb leadership, high distinction in workmanship and great customer care !Thanks to: the assessor (Alex?) and Zachary at Alliance Climate Control for the very prompt and pleasant phone/emails service !Thank you so much Jonathan, Thomas, Brad and James for bringing a big smile to our face ! We highly recommended Alliance Climate Control to all our friends and families !

read more
We had our two old Fujitsu A/C systems (floor type and ducted) replaced by Alliance Climate Control. We have nothing but praise for the whole team. We received a few quotes and ACC's quote was the most expensive one and you had to make three

...

installment payment totaling 90% of the cost. But we had no hesitation to go with ACC. Kirk was the only one who gave us the quote on the spot and we could tell he was very experienced. On the installation day, Dee and his team, Rodriquez, Jono, Thomas arrived on time. Dee took time to explain what he was going to do first. He covered the area with drop sheet. The team worked hard and well together and as we expected, the quality of their work was excellent. James, Operations Manager contacted us for after sale follow up too. Accounts staff, warehouse staff, they were also pleasant to deal with. It's great to see people taking pride in their work. Well done!

read more
BJ and Peter installed the split systems in our house with the help of Jono and Thomas on the second day to finish off the job. They did a great job, were super efficient, friendly, clean and hardworking. Thanks to BJ and Peter for going above and

...

beyond to get job done quickly and in time before the next rain!!! Great quality work. Everyone was very considerate since I work from home. John and Chris the sparkies were great - provided perfect explanations and super efficient. Thanks to Ben for providing the quote and being very professional, friendly and responsive when setting up job. Joe and Zac in the office also super helpful. There is a wonderful team at ACC, would recommend to anyone!!! The price may turn some people off when there is so much competition but I don't have a zero complaint so very much worth it for me.

read more
The Alliance Team was very professional from quotation to installation of wall mount air conditioner in an apartment. Goran prepared the quotation within 24 hours and provided the required documents for Strata's approval. Zac was very helpful

...

throughout the process. Queries were answered promptly.The technicians, Jonathan and Thomas were on time, friendly and did an excellent job. They were very professional, check with us before installation to make sure it was what we wanted, explained installation options to us and cleaned up each day. They also gave us a quick run through of how to operate the system.

read more
We recently had our old ducted aircon system removed completely and had a Daikin reverse cycle ducted aircon system installed with Airtouch. Harry, Mahran and Andre helped install the system, and were very efficient, friendly and quick. Harry was

...

very helpful and explained the new system operation to all the family members and helped us operate the system using the app on our mobiles. Very happy with our new system!

read more
Jamie and Liam were punctual, calm, helpful, patient and polite. A pleasure to have in my home.
Shazim was professional, polite and timely. Very satisfied with the service.
Thank you Kevin, Auden, Jonathan, Thomas and Shadi. A hard day's work in difficult conditions - rain, stairs - all completed without complaint. Job looks good. Nice guys to work with.
Johnathan and Thomas were fantastic. On time, polite, tidy and very professional. I would highly recommend Alliance Climate Control. Thank you for the great service.
Excellent service from the team - Shadi, Tomas and Rodreges were wonderful and efficient couldn't be happier Lisa
I have been using Alliance Climate Control for a couple of years now. I have had nothing but excellent service and always a good experience. I wouldn't hesitate to recommend this company and I wouldn't hesitate to use them again and I will. Keep

...

up the good work team. Really appreciate the service.

read more
Adrian came yesterday and submitted a detailed quote to upgrade the switchboard. Today, he and Chris came and completed the work quietly, efficiently and were professional at all times. This is the second time we have used Alliance and will

...

definitely use them again and tell our '10 best friends'Thanks Adrian and Chris.Sonia and Bill

read more
Job: Installation of New Daikin Zena AC system in Centennial Park.After being messed about by another installer for weeks, I called Alliance on Monday , the assessor showed up same day and gave me the quote on the sport, and on Thursday my new

...

Daikin AC was installed and ready to go.Whole process was smooth and easy , with special thanks to techs Bradley and Martin who went above and beyond with carefully removing old system, and installing new one with improvements of safety switch and plumbing direct to downpipe instead to balcony drain as was old system.I am very happy with service and will use Alliance again.George

read more
Shazim Alliance Tech was excellent. He was respectful, patient and very swiftly located the problem and explained it. one feels that Alliance climate as a company train their employees well and certainly Shazim is a valuable asset to the company.
Dave, Adrian and JJ were fantastic. Very professional, on time and completed the job with the least amount of interruption of power. Following this I had the same Alliance team do further electrical work and an aircon installation (with Dee,

...

Shardi, Roderick and Chris) Again, this was done superbly on time and professionally handled ... and no mess. Will definitely use Alliance again and highly recommend them to others.

read more
All round good service from Ewan in doing annual system maintenance. Quoting on conversion of gas hot water to electric storage, heat pump or solar. Helpful, explained well, attention to detail. Recommended.
Lachlan was on time, polite and an excellent communicator. I was very happy with the service he provided.
From start to finish, dealing with Alliance Climate Control is great experience. We have our air conditioning maintenance with them, but recently decided to install an additional air con unit. From our initial contact with Mellisa through to the

...

service provided by BJ, Peter and Bailey, we could not have had a more professional experience.

read more
There was an issue with one of the rooms not cooling. Dee and Shadi came and fixed the problem. Highly recommend these guys. Very knowledgeable
Jake and Liam were courteous, polite and knowledgeable. I have been so impressed with this company right from the initial contact through thier website to the people I spoke to on the phone and the appointment booking. The technicians Jake and Liam

...

have been great today and I look forward to seeing them in a few weeks to perform the updates to my aircon system.

read more
Amazing serviceOur airconditioning/heating unit broke down. Got 4 quotes these guys were the most professional and competitive. Told me exactly what I needed and did not try and upsell like the other quotes. Installation was excellent. The guys

...

Jonathan Thomas BJ and Peter who did the install were excellent. Really respected our things in the house moved them all and put down drop sheets. The fit out was quick efficient and great people to deal with. The new system is fantastic the place is actually now warm and it will be cool in summer. I cannot recommend Alliance more than I just have. If you need a new unit or service these are the people to call. Thanks guys very much appreciatedAlso thanks to the office staff who were also excellent in getting the job done quickly and processing payments in installments. Thanks Zac much appreciated.CheersMat

read more
Excellent outfit, with a focus on ensuring quality work and customer satisfaction. Kevin, Khai, Brandon, John and Chris all helped install two separate ducted systems for us and were excellent in all regards. Highly recommend.
Excellent communication, presentation and thorough. Have used Alliance for a few years now.
Jonathan and Thomas have done a really good job.
I highly recommend this company. Their staff Gabriel and James who worked on my heating system are very professional and honest. They clearly explained the issues with my heating system and listed everything requiring work.
From removal of the old unit to installation of the new, both Tim and James were professional and friendly. Great service, great outcome. Would recommend
Outstanding Leadership by the experienced lead installer Matt and his team of Noah, Aiden and Thomas. Despite an early set back, which the company resolved, each team member knew and got on with their tasks. Matt and Electricians John and vent

...

installerJohnno worked well together and imbued me with confidence. Their younger team members were impressive in their drive, and respect for each other. No heated exchanges and relaxed but professional demeanour left me with full confidence that I would end up with a top quality product and equally top notch installation. Matt, John and Johnno were great ambassadors for the Alliance brand. Matt is particularly impressive with his leadership style, leading his team with in uncomplicated, firm but fair manner.Thank you Alliance for sending a really great installation team.

read more
John M and JJ were fantastic! They showed up on time, did a thorough job and the end result looks and performs great. Highly recommend.
The Alliance team were excellent from first contact through to quote and installation. I couldn't be happier with the service. Everyone I have dealt with has been super friendly and courteous.The installation team arrived on time, calling half an

...

hour before arrival. Work carried out was explained clearly prior to commencement and I was consulted on any predilections. All care was taken to ensure my furniture was protected from dust caused by drilling, and clean-up was performed brilliantly after completion.It was a big job, however the team were always professional and considerate, taking great care with the installation and the overall aesthetics. I was so impressed with the service that I am now scheduling my next installation.Highly recommended.Thanks to: B.J. Noah, Adrian, Tory, Zac, Joe, Charlene, Sam.

read more
I highly recommend this company for the work they did at my place. They installed a fully ducted reverse heating air icon. I would particularly like to commend Kevin, Martin, Brandon and Jonathan who were very attentive to my concerns by keeping me

...

in the loop constantly through the process. They even slightly changed the design to accommodate a concern I had. The final result was an extremely professional and effective installation with the results exceeding my expectations.

read more
Happy with the installation. Bradly and Kai were helpful, kind and tidy workers. We would recommend Alliance Climate Control to everyone.
Great service, will definitely go back for future maintenance jobs for my home AC
I had a great experience and am so happy with the customer service from Alliance Climate Control. Dee, Rodriquez, Moe, Ilich and BJ put in two AC units and were working in a very narrow pathway. They were friendly, professional, considerate, left

...

everything really clean, and the work on the outside of the apartment block looks incredibly well-done and tidy. I couldn't recommend a company more on skill and going out of their way to be helpful and supply supportive customer service.

read more
The Alliance Team I dealt with, Darko, Adrian, Chris, JJ, (apologies if I've left anyone out!) were all great. They were polite, patient and respectful and gave me the confidence that they know their work and would do a good job. I was very happy

...

with the job and also the level of cleaning they carried out at the conclusion of the work. I have already recommended them to friends.

read more
Gabriel was so professional! Our work was completed on time and perfectly done. Thanks again. Highly recommend.
Got a Daikin Zena multisplit system installation done by the guys at Alliance CC this week. Everyone I dealt with at the company was friendly and helpful, they turned up on time and did a nice clean install with some complex duct runs and wall

...

penetrations. Thanks again BJ, Peter, Noah, Goran, Zac, Joe and the rest of the team for your professional quality work.

read more
I have been using Alliance Climate Control for a few years, first for service, then to install a split unit and lately to upgrade my whole system.They are very professional, provide great service and their team, specially Raj from their service

...

team, are a pleasure to deal with.Their installation are absolutely top notch.I continue to use their service and highly recommend them.

read more
I had a team of 8 come out and do my central heating and cooling as well as ducted reverse cycle upstairs. I can't speak highly enough of how professional and helpful the team was. Will definitely recommend Alliance Climate control to anyone needing

...

aircon. Thank you Harry , Mahran, Kevin, Martin, Shadi, Jonathan, Brendon and JJ. What a team.

read more
Good and reliable service
professional and pleasant to deal with. We had an accident on the day and they were quick to have it rectified fully in a very short time and fitted in with our schedules. Would definitely reccommend.
We've have had ACC aircon for a year now & love it. We had our 12mth check up today and the specialist was really excellent - super friendly, professional and considerate - very impressed!
This is the second time we have used Alliance CC and I highly recommend using them. We had Liam and Gabriel come out to do a quote for a clean and maintenance of our aircon unit. They called ahead and arrived on time. Did the quote and explained in

...

details the job to me and then they were able to do the job right away which was super convenient. They were fast, professional and super quiet (my toddler slept through the whole thing in the room next door). Highly recommend the Alliance team!

read more
We were very impressed with the cleaning and maintenance service we received - Jake & Cody arrived on time, they did a superb job of cleaning the ducts/vents, etc and replaced one or two items that were beyond repair! They also gave us immediate

...

solutions to new panel replacements we required. It was a pleasure to have such friendly and professional people in the house. We would definitely recommend them to anyone looking for quality service!

read more
Jonathan and Thomas is very good !Friendly and responsible
Thanks Jonathan and Andre for a great install!
Adrian and JJ from Alliance installed a new switchboard today, very neat job and showed up first thing and was done just after lunch. I had some faulty circuits which traced back to the switch and the circuit is working again which is great!They

...

also identified a couple other faults at the same time and fixed them as well which is greatly appreciated.Thanks again guys, 5/5

read more
Jonathan and Thomas both did fantastic installation jobs for my two AC units. They handled unexpected issues in stride and kept us informed along the way. Couldn't rate them and Alliance highly enough!!! Excellent, top-tier work!
Arrived right on time, quote had lots of options, AC is noticeably improved!
Excellent service and always on time. Prices are clear and upfront before work commenced. Gabrielle was thorough and professional.
Kevin, Martin, Brandon are the guys I entrusted the AC installation to. I could not be happier with the way they conducted themselves, on time, courteous and professional tradesman that kept me informed all the way about the job at hand. I'm not

...

being paid for this but if I highly recommend Alliance climate control for all your aircon needs. Thanks guys

read more
Brilliant service from Alliance. The team comprising of Dee, Shady, Rodriguez, Jonathan and Thomas all came on time, assessed the installation requirements , communicated their plan and then finished installation. We also had existing problems with

...

ducting in our bedrooms, they investigated and found the problem and fixed it without any trouble. Many other vendors had failed to identify and rectify the problem previously. My husband and I both work from home, but the team did their best to keep the noise down, didn't disturb us through the installation process and asked us very few questions. They cleaned up after installation and tested the unit thoroughly. I would highly recommend Alliance and their team.

read more
Always cheerful and efficient, and job well done.
Kevin and Brandon were a joy to have over and installed x3 aircon with absolute professionalism. They explained the process well and kept me updated. Wonderful manners and cleaned up after. They went above and beyond to what I expected. Very

...

appreciative for their service.

read more
Gabriel from Alliance Climate Control came and cleaned my air con unit.He was prompt and after looking at what the problem was explained my options.He made sure my furniture was protected and that no mess was left behind.Everything was explained

...

to me and my questions were answered.I'm very happy with how my air con is now working.Highly recommend this company

read more
Fast and clean installation of my split-cycle aircon by BJ, Brandon, Darko, Aaron and Zac. All done by 11am, and left the place spotless. Would used again.
Quality skilled service! A big thank you to B.J., Peter, Ken, Gabriel, Zac and Sam for getting my airconditioner installed, and for being not only professional but also very friendly. I very much recommend them!
Excellent electrical technicians John and Chad. They provided a very professional installation.Highly recommended.Another great job done by Jonathan, Thomas, Aidan, Kevin and Martin to install new multi unit air con. A very difficult job done by

...

a very professional team

read more
I just had two air conditioners installed. From the time I contacted Alliance to get a quote, through the booking process to the time of installation, I found the company very professional, quick to respond to enquiries and excellent in

...

communications. Dee, Andres and Ken were the techs who installed the AC - they arrived on time, were very professional in the way they went about the installation, explaining what they were going to do and a run-through on how to use the AC's after the installation. They were very careful in the way they worked and moved around the house and at the end of the install, they left everything as clean and tidy. I would highly recommend Alliance.

read more
Mr. Kevin and Mr. Brandon did perfect job, they have worked professionally, performing good quality and good service. Thanks a lot to them!
Thanks to B.J., Peter, Goran, Zac, Joe and Sam for their help. B.J. and Peter were on time, efficient, explained everything clearly and polite. Thanks to the team for a great job!
I had an excellent experience with ACC. Special shout out to B.J., Shadi, Tory, Zac, Nic and Sam! They were nothing but professional, polite and on the day of even accommodated our neighbours (who were filming a show next door).
I don't think I've ever come in contact with a better-run business than this one. From the first inspection , to talking through the options right through to installation this mob was stunningly professional - they always turned up on time,

...

communication with the office was perfect, all the documentation was excellent; whoever runs this business really needs to be congratulated. Then on the day of the installation, an unpleasantly hot day to be working up in the roof, they sent three excellent young blokes - Harry, Aaron P. and Aiden, who did a really great job. I recommend these guys without hesitation; I'll give my sister in Crows Nest a ring and proselitize today as I sit back and enjoy a day when 33 is forecast, rather than suffer through it.

read more
Johnathan and Thomas were amazing so professional .
Wonderful team , Dee Shadi Rodriguez and Nathan. Installed our new ducted air conditioning. They worked hard all day, all were courteous friendly and professional. They cleaned up after themselves. Would recommend them anytime
Kevin, Dario and Christian were amazing for our air conditioning install. Called 15mins before they arrived and were outstandingly professional. Gave us an accurate time frame for how long the install would take, took care of moving all the

...

furniture that needed to be moved. They were very communicative and cleaned everything up beautifully, tied everything up and tested it. Also explained how everything works. Would absolutely recommend!

read more
They did a brilliant job, start to finish. When other installers had said it was too difficult Ben came and assessed my house and gave a great quote. He was lovely to deal with. Zac in the office really helpful too. On the day BJ led a great team,

...

again lovely to deal with, really respectful, communicative and pleasant. Peter did a lovely job on the install, explaining my choices and giving great advice. Chad and Chris dealt with an old terrace with questionable electrics like absolute pros. Took all challenges in their stride and I am so pleased with the results. Will definitely use the company again and recommend to my friends.

read more
highly professional work for installation of new AC unit, Kevin, Martin, Dario and Andres we luv ur great work!
I cant praise these guys enough. Their customer service is outstanding.
Both on site quote and later installation of 2 AC split system units at our house were professional, friendly and courteous. Thanks for the quality job, Jonathan and Thomas!
Shazim was very courteous and professional repairing my ac unit. Would definitely go with alliance again.
Very professional, on time, efficient and delivered exactly as promised. Thanks for the hard work in extremely hot conditions, Kevin, Martin and Aiden.
Staff are skilled, confident, know what they are talking about and helpful.
The entire team at Alliance were very helpful and professional. From sales and quoting to installation. Thank you Jonathan, Thomas and Aaron for great work installing aircon for us on a very hot day!
Jonathan was quick to respond, professional and very friendly. Job was clean and quick. Very happy with his service.
I used Alliance Climate Control to have a ducted airconditioning system installed along with a wall mounted aircon system. They were so professional and thorough the whole way through. Ben came out to quote and recommend the best solution for my

...

client's needs and did an excellent job. I then had Dee and his team come out and to the installation for both systems and he was fantastic. Not only was he polite and excellent with my client, he was thorough, he was careful and cleaned up and he was experienced and professional and could not have been more helpful. I highly recommend Alliance Climate Control. They're teams are amazing and service has been outstanding.

read more
The Alliance CC team of Kevin, Martin and Aidan were excellent in every way ... courtesy, professionalism, quality of workmanship ... they should be commended!I would have no hesitation in recommending Alliance CC to anyone.Lloyd Bromfield -

...

Point Frederick NSW

read more
The guys who did my installation were great! Jonathan and Thomas were on time, professional and polite. Highly recommend!
Huge thanks to Jake and his techs who were absolute legend throughout the process. Would definitely recommend their services 👌
We just got a new air-conditioning unit installed and were impressed by the respectful and professional service by Shadi and Andrios. They cleaned up after, took away packaging and did an excellent install, going through everything with us.

...

Thorough, experienced, reliable. Highly recommend.

read more
Personable with good follow up. Took the time to give advice and went beyond in servicing.
The work was carried out in a professional and efficient manner.
These guys are outstanding. Mine was a challenging A/C split system installation, in a long single story terrace with the power board at the front, the A/C to be installed right at the back and blocked in on both sides by next door neighbours'

...

houses. Jonathan and Thomas led a team of about six guys who worked tirelessly all afternoon to get the job done. Cheerful, polite and respectful of my home, and kept me informed throughout the process. These guys, and the company, really care about their customers. I should also mention Ben who came to do the quote and stayed in touch as my primary contact throughout: very professional, knowledgeable and easy to deal with. Will definitely be recommending! N. E. D'Angelo, Bondi.

read more
On the 19th of Jan 2022 an inspection was conducted by Gabriel. He was punctual and did a thorough inspection. He came back with Bailey for the AC cleaning and tune up on the 21st of Jan as per agreement. We have rated both of them 5 stars for the

...

following reasons and base on our observations. Punctuality, tidy in appearance and work, very knowledgable with their trade, well mannered, they did a meticulous job in servicing our AC. Most of all, they were both efficient because they worked as a team. We are a very happy customer. Thank you Gabriel and Bailey.

read more
Definitely recommend using this service, am very satisfied with the results. Thanks Shazim and Liam.
When you book online,
on service work*
Limited time only, offer ends .
Not to be combined with any other offer
*Offer to be presented at point of booking or sale.
Frequently Asked Questions
Where are Braemar heaters made?
Braemar heaters are Australian made as well as locally designed. These top range heating products are manufactured in Albury, New South Wales, by Seeley International.
Are evaporative coolers the same as evaporative air conditioners?
Yes, an evaporative cooler is the same as an evaporative air conditioner. These names are interchangeable for the same type of system. They both simply refer to a cooling system that uses evaporative processes to cool the air. Other terms used for the same systems include evaporative air cooler, evaporative cooling and ducted evaporative cooling.
Where can I have my Braemar ducted heating serviced in Sydney?
Alliance Climate Control can service your Braemar ducted heating system in Sydney. With over 100 years of combined experience, you can trust the team at Alliance Climate Control to service your Braemar deducted heating system. Call Alliance Climate Control today on 02 8061 5023 or request a free quote online.
Where can I have my Braemar ducted heating repaired in Sydney?

Alliance Climate Control can repair your Braemar ducted heating system in Sydney. With over 100 years of combined experience, you can trust the team at Alliance Climate Control to repair your Braemar deducted heating system. Call Alliance Climate Control today on 02 8061 5023 or request a free quote online.
Schedule an appointment with
one of our specialists today.