Eastern Suburbs Local Air Conditioning Installation​
100% obligation-free quote from
qualified and licensed technicians
A fully tailored, obligation-free quote will be provided to you on the spot
A full heat load calculation, space inspection, and efficiency study
Picture Perfect Installation
Every detail matters​, indoor, outdoor unit, trunking, controls and all accessories will be perfect
How can we help you today?
Qualified Air Conditioning Installers
Eastern Suburbs
Are you looking for Air Conditioning Installer in Eastern Suburbs?
Alliance Climate Control have Local Air Con Installers on duty ready to help. All Aircon Installers are trusted, professionals and qualified to provide Air conditioning Installation work at your home or business property in Eastern Suburbs.
Standing behind the comment of "going above and beyond". We do what we said we would do, when we said we would do it, the way we said we would do it. Making sure we are easy to do business with.
If you need a reliable local technician for assistance, speak with one of our friendly and professional team members.
Alliance Care, 5 Year Warranty*
With a Maintenance Agreement Plan your new asset is protected for a total of 5 years on all installation warranty.
Maintenance Tune-Up will ensure your system is kept in pristine condition year after year!
100% Satisfaction Guarantee
We offer a 100% service satisfaction guarantee on all work performed.
If you feel that the service was not provided to your full satisfaction, within 12 months to date of the original visit, we encourage you to call us so we can make things right!
We provide a written, guaranteed investment cost for your repair(s) or installation(s) before performing any work.
If any additional materials, parts or labour are required to complete the work, there won't be any additional costs to you, unless otherwise stated on the invoice and authorised by you. Also, we will never leave your job for another project without finishing your repair or installation first.
The bottom line is that we will protect your home. If we dirty it, break it or damage it, we'll make it right. Our company is fully licensed, insured and we pay workers compensation for your protection.
Is it important to you knowing that, if something happens during the course of the job that damages your property or a worker gets injured, that our company will take care of it for you and shield you from any liability?
We're here to help for Air Conditioning Services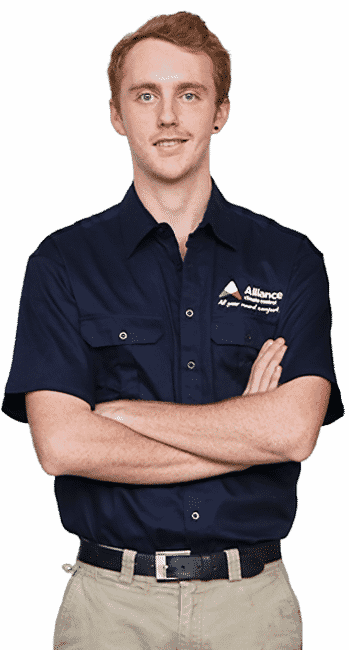 Specialist Dealer & Partners
With any service performed*
Limited time only, offer ends .
Not to be combined with any other offer
*Offer to be presented at point of booking or sale.
470+ Customers Have Rated Us 4.9/5 On Google Reviews