Sutherland Shire Local Air Conditioning Services
Gas ducted &
Air conditioning
Residential & Commercial air conditioning sydney
All air conditioning & gas heating maintenance repairs
Indoor air quality
services
All service & repairs, power, lighting, switches
Instant hot water, electrical tank service & installation
How can we
help you today?
At Alliance, everything that we do revolves around our culture of trust, accountability and passion for our work. We want our customers to do business with us because they believe in the standard that we believe in and won't settle for anything less. We believe in doing thing the right way, not the easy way!
This greater sense of purpose which we all strongly believe in across our organisation has allowed us to contribute the best of who we are towards our trade.
Our goal is to bring true meaning to the words help and serve, bring real meaning and true value behind what we do, help and service not only our community but our team. How? by putting you our customer and our team first.
How can we help you today?
Qualified Air Conditioning Services
Sutherland Shire
Are you looking for Air Conditioning Service in Sutherland Shire?
Alliance Climate Control have local Air con Service Technicians on duty ready to help. All Aircon Technicians are trusted, professionals and qualified to provide electrical service at your home or business property in Sutherland Shire.
We offers varied Air conditioning services in the Sutherland Shire:
We're here to help for Air Conditioning Services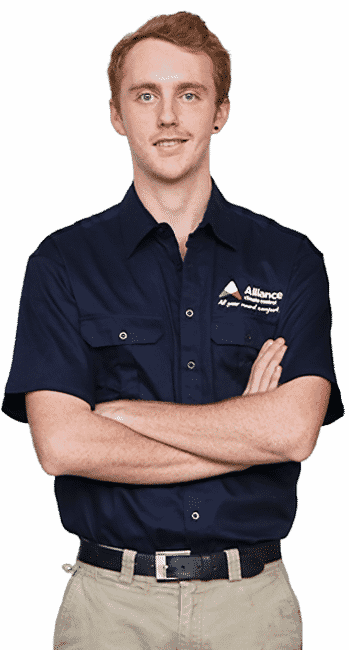 Alliance Care, 5 Year Warranty*
With a Maintenance Agreement Plan your new asset is protected for a total of 5 years on all installation warranty.
Maintenance Tune-Up will ensure your system is kept in pristine condition year after year!
100% Satisfaction Guarantee
We offer a 100% service satisfaction guarantee on all work performed.
If you feel that the service was not provided to your full satisfaction, within 12 months to date of the original visit, we encourage you to call us so we can make things right!
We provide a written, guaranteed investment cost for your repair(s) or installation(s) before performing any work.
If any additional materials, parts or labour are required to complete the work, there won't be any additional costs to you, unless otherwise stated on the invoice and authorised by you. Also, we will never leave your job for another project without finishing your repair or installation first.
The bottom line is that we will protect your home. If we dirty it, break it or damage it, we'll make it right. Our company is fully licensed, insured and we pay workers compensation for your protection.
Is it important to you knowing that, if something happens during the course of the job that damages your property or a worker gets injured, that our company will take care of it for you and shield you from any liability?
We do what we do because we're inspired and committed to setting a new standard of excellence across the industry. Standing behind the belief of "going above & beyond". We do what we said we would do, when we said we would do it, the way we said we would do it. Making sure we are easy to do business with.
Be recognised as a major leader in our field by providing a service at the highest level to our customers and the community. Committed with a trained team to deliver and raise the standards within our industry while exceeding our customer's expectations with unrivalled personal service and care.
Deliver a service that creates life-long customer relationships, not just transactional ones. We want our customers to do business with us because they believe in the standard that we believe in and won't settle for anything less.​
Specialist Dealer & Partners
With any service performed*
Limited time only, offer ends .
Not to be combined with any other offer
*Offer to be presented at point of booking or sale.
470+ Customers Have Rated Us 4.9/5 On Google Reviews