Looking to Mount your TV?
You've worked hard for your home, and you want each and every element to look and feel right with professional installations for a sleek and modern finish.
You've spent time researching and purchasing a brand-new TV, brought it home, attempted to mount your TV and realised it's harder and more complex than it looks.
If you want a professional finish, it's best to leave Wall Mounting TVs to the professionals. A wrongful attempt can do more harm than good with internal damage to walls, gyprocking, electrical wiring and in the worst case – yourself.
Leave the hard job to the professionals. With over 15 years' experience, our trained and licensed Master Electricians are here to assist you in professionally hanging and mounting your TV.
Benefits of Mounting your TV
What type of bracket is right for me?
There are so many different types of TV mounting brackets from Flush Wall Mount to Tilt and Swivel that it becomes quite confusing as to which bracket suits your TV and room requirements best.
Quite often we find people using the wrong bracket, cabling and don't install the television bracket properly as they get caught up in the excitement of installing and mounting their new TV.
Factors to take into account when selecting your TV bracket:
It is imperative you use a professional to carefully select the most appropriate TV bracket, install, mount and hang your TV to ensure it is safely installed.
Why use Alliance Climate Control?
When it comes to Wall Mounting your TV, Alliance Master Electricians provide you with a TV hanging service like no other.
With over 15 years' experience and a 4.9-star Google rating, our team is based in Sydney and is professional and available for you to rely on. Our licensed, accredited and highly skilled Master Electricians are trained with years of experience in Wall Mounting TV's – no matter the style, size or mounting location within your home or office.
Picture perfect installations are imperative to us. Our technicians ensure the size and style of bracket is perfectly suited to your TV and requirements, align and mount the TV whilst ensuring all wires and cables are concealed for a sleek and clean finish.
Call Alliance Master Electricians today on (02) 8061 5023 or all your TV and wall mounting needs.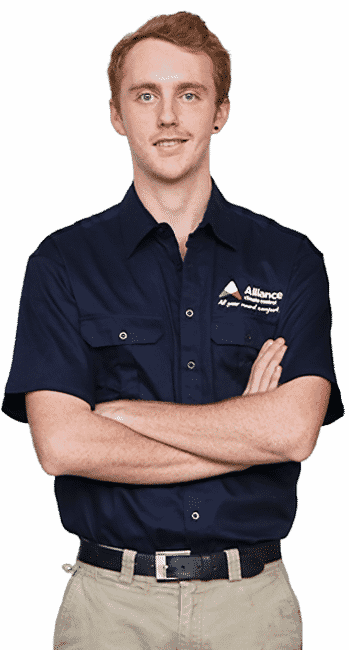 Why our community trust Alliance?
How can we help you today?
Power Points, Switches & USB
With any service performed*
Limited time only, offer ends .
Not to be combined with any other offer
*Offer to be presented at point of booking or sale.
Electrician Partners & Brands We Trust
What our local community is saying about Alliance