Qualified
Heating
Installers
100% obligation-free quote from
qualified and licensed technicians
A fully tailored, obligation-free quote will be provided to you on the spot
A full heat load calculation, space inspection, and efficiency study
Picture Perfect Installation
Every detail matters​, indoor, outdoor unit, trunking, controls and all accessories will be perfect
How can we help you today?
Get cash back up to $1300 with a Natural Gas heater installation*
For a limited time get a cash back when you replace your non-gas appliance with one of the Natural Gas appliances listed below.
Ducted gas heating, pool and spa heating
Flued heating (new installs allowed)
Alliance Gas Heater Installation
When you install a new gas heater*
When you replace your existing gas heater or air conditioning*
Finance option available up to 36 months interest free* (Terms and conditions apply*)
1. If you looking to install a brand new gas heating systems in your home
2. if you are looking to upgrade your current air conditioning systems to a gas heating
To claim your cash back please ensure you have met these requirements before making your claim online at GoNaturalGas.com.au.
I have…
1. Purchased a new Natural Gas appliance or
2. Replaced a non-gas appliance or completed a brand new appliance install*

3. A copy of my invoice or purchase receipt

4. A copy of my NSW Fair Trading Certificate of Compliance (as issued by your licensed Plumber or Gas Fitter)#

5. Purchased and installed my Natural Gas appliance during the promotional period

You will receive your Natural Gas Cash Back (VISA Card) in the post within six weeks.
Terms & Conditioning
*Claims cannot be made where a natural gas appliance has been replaced by another natural gas appliance #Claims will be rejected if certificates are not provided. Jemena needs to ensure that all natural gas appliances are installed by licensed and qualified plumbers and gas fitters. Terms * conditions.
What Type Of Heating Is Right Me?​
There are plenty of options to keep you and your family warmer in winter months. Some options are more versatile than others such as reverse-cycle ducted systems.
It all depends on your preferences and requirements. Here are some questions you should ask in preparation for an installation quote: 
Why our community trust Alliance?
With over 15 years' experience in residential gas central heating installation, Alliance has been offering heating services to our local community and Sydney wide.
Standing behind the comment of "going above and beyond".
We do what we said we would do, when we said we would do it, the way we said we would do it. Making sure we are easy to do business with.
If you need a reliable local technician for assistance, speak with one of our friendly and professional team members.
We're here to help for Air Conditioning Services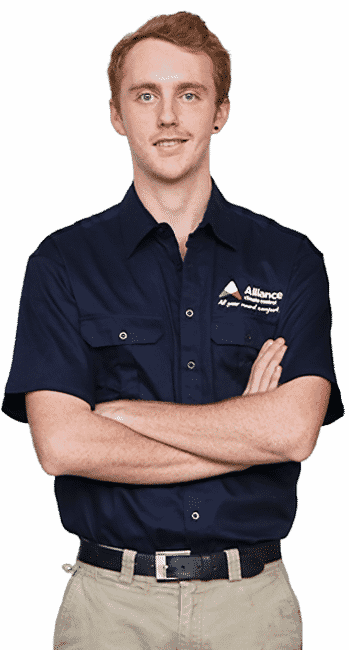 Alliance Care, 5 Year Warranty*
With a Maintenance Agreement Plan your new asset is protected for a total of 5 years on all installation warranty.
Maintenance Tune-Up will ensure your system is kept in pristine condition year after year!
100% Satisfaction Guarantee
We offer a 100% service satisfaction guarantee on all work performed.
If you feel that the service was not provided to your full satisfaction, within 12 months to date of the original visit, we encourage you to call us so we can make things right!
We provide a written, guaranteed investment cost for your repair(s) or installation(s) before performing any work.
If any additional materials, parts or labour are required to complete the work, there won't be any additional costs to you, unless otherwise stated on the invoice and authorised by you. Also, we will never leave your job for another project without finishing your repair or installation first.
The bottom line is that we will protect your home. If we dirty it, break it or damage it, we'll make it right. Our company is fully licensed, insured and we pay workers compensation for your protection.
Is it important to you knowing that, if something happens during the course of the job that damages your property or a worker gets injured, that our company will take care of it for you and shield you from any liability?
Specialist Dealer & Partners
With any service performed*
Limited time only, offer ends .
Not to be combined with any other offer
*Offer to be presented at point of booking or sale.
Schedule your
appointment
What our local community is saying about Alliance