Gas Heating System Servicing & Maintenance Sydney
on new air con installation*
Limited time only, offer ends . Not to be combined with any other offer.
*Offer to be presented at point of booking or sale.
Sydney's Gas Heating Servicing &
Maintenance Experts
Gas heating maintenance is critical to keep your gas ducted heating running efficiently. Having your gas heating serviced is the best investment in the function and lifespan of your home's heating. 
Worried your old gas heater is no longer safe? Not sure you're getting the same performance out of your ducted gas heating as before? An Alliance Climate Control technician can resolve all of your issues with a convenient gas heater service and tune-up. 
With each maintenance service, a trained and licensed technician will inspect your gas heater and identify any issues, ensuring any emerging problems are picked up and resolved early. 
Some of the common issues we find in residential gas heating systems are:
Gas leaks 
Blocked and dirty filter 
Poor flue connections
Ignitor and sensor faults
Carbon monoxide leaks
Choosing an experienced professional gas heating technician is essential to keeping your gas heater in good condition. Amateur servicing can lead to dangerous faults and decreased performance of your gas heater, costing you more on your energy bills. 
The best solution? When you need ducted gas heating servicing in Sydney, call the trusted professionals at Alliance Climate Control. You can rely on our expert team to restore your heating system to peak condition with our comprehensive maintenance and tune-up service.
Book your gas heating maintenance service with Alliance Climate Control today.
Schedule an appointment with
one of our specialists today.
What Are The Benefits Of
Regular Gas Heater Servicing?
A gas heating system is something you rely on to keep your home warm, and it's important to keep it in good working order. Regularly having your ducted heating serviced helps avoid costly repairs, keeping it running safely and efficiently. 
Benefits of regular gas heater servicing include:
Cheaper operating costs – A well-maintained gas heating system will run more efficiently, saving you money on your energy bill.
Better heating performance – A regularly serviced system will heat your home more evenly, offering faster and more efficient climate control.
Fewer repairs – A well-serviced system is less likely to break down, while skipping gas heating maintenance can lead to premature wear and tear.
Cleaner air circulation – A properly serviced system will help to circulate clean air throughout your home, improving your indoor air quality.
Helps prevent carbon monoxide poisoning – Carbon monoxide is a deadly gas that can be produced by faulty or poorly maintained gas heating systems. By having your gas heater serviced regularly, you can help prevent carbon monoxide poisoning in your home.
Protects your warranty – Some manufacturers require proof of regular servicing to validate the warranty. Regularly scheduled servicing will help protect and validate that warranty if you need it later down the track.
Having your ducted heating serviced is an essential investment in your home's safety and energy-efficiency. To book your next service, contact the experts at Alliance Climate Control. 
Schedule an appointment with
one of our specialists today.
How Do I Know If My
Gas Heater Needs Servicing?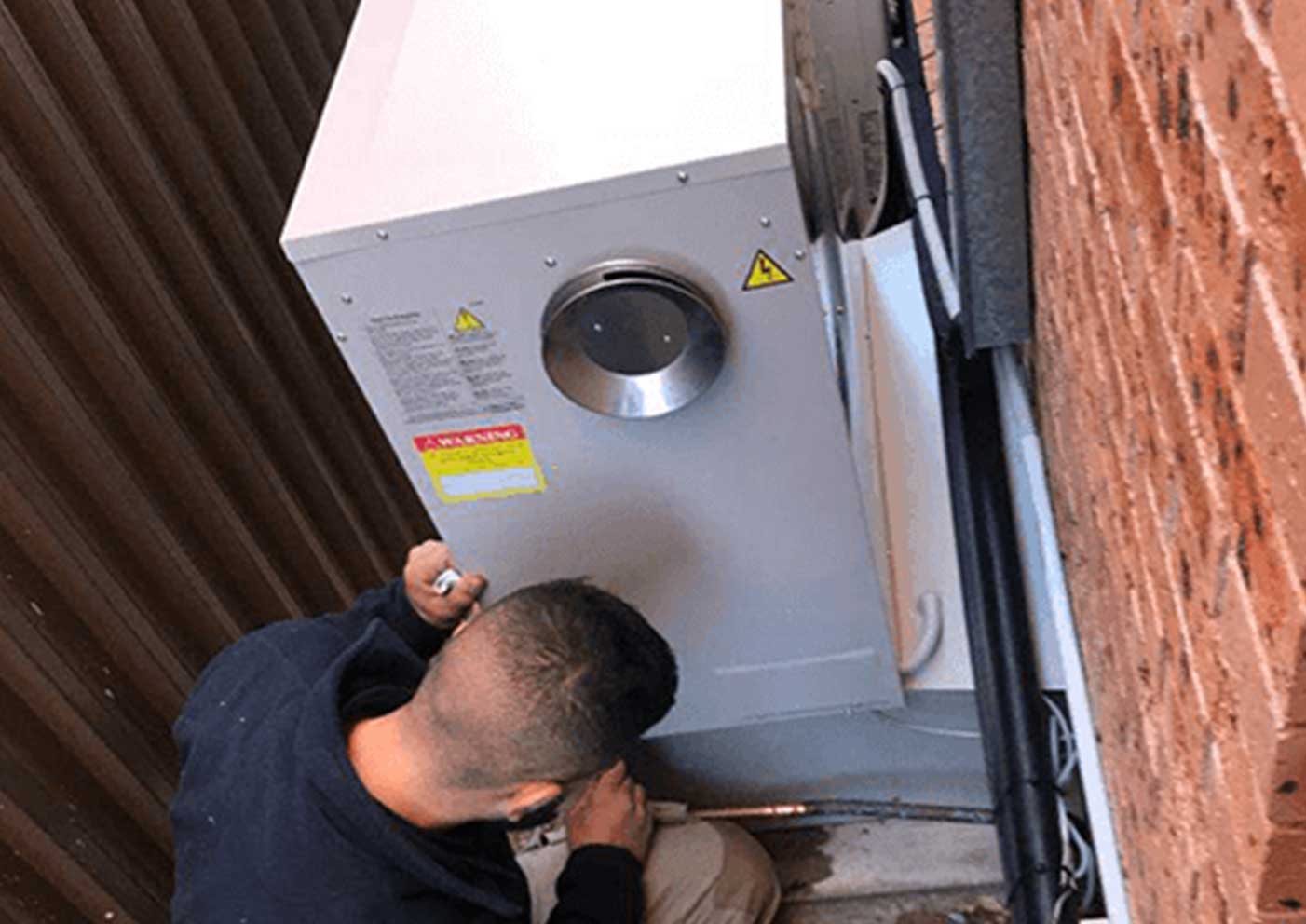 If you're noticing that your gas heater isn't running as well as it used to, it may be time for a service. Servicing your gas heater will fix any minor issues impacting your heater's performance, and ensure it's still operating safely.
Here are some signs that your gas heater may need servicing:
Your gas heater is not as warm or efficient as it used to be
Your gas heater makes strange noises
Your gas valve is sticking or doesn't work properly
Your system hasn't been serviced in the past 6 to 12 months


If you're experiencing any of these problems, it's time to call a professional for gas heating servicing and maintenance.
It can be hard to determine if these are symptoms of a system that needs servicing or repairs. Thankfully, the expert team at Alliance Climate Control is here to help you out.Our experienced team members can diagnose your gas heating issues and let you know if we can resolve it with a simple performance tune-up. 
To help avoid issues in the future, we can organise a regularly scheduled maintenance plan for your ducted heating. By keeping on top of maintenance, you'll enjoy better performance from your home heating for longer – giving you the very best value for money. 
To book your ducted heating service, contact Alliance Climate Control today. 
Schedule an appointment with
one of our specialists today.
Why Our Community
Trusts Alliance?
Schedule an appointment with
one of our specialists today.
How Often Should You Service
Your Gas Heater?
Keeping gas central heating in good working order is important for a number of reasons, ensuring your heating system is reliable, safe and long-lasting. But how do you know when your gas heater needs servicing? 
The average gas heating system needs to be serviced every 12 months, but this may vary depending on the make and model of your heater, as well as how often it's used. For example, if you're using your gas heater for over 7 hours a day, it's going to need more frequent servicing to avoid performance decline. 
If you're not sure when your gas heater was last serviced, or if it needs servicing, don't put it off any longer. Here at Alliance Climate Control, we're Sydney's experts in gas heating. We're here to help you keep your home's heating working efficiently, saving you dollars on your gas bills.  
Here at Alliance, we understand that keeping your home warm and comfortable is important. Keeping our clients' gas systems in safe working order is our top priority. 
If it's time for gas heating maintenance, book an appointment with our technicians today. 
What's Involved in a
Ducted Gas Heating Service?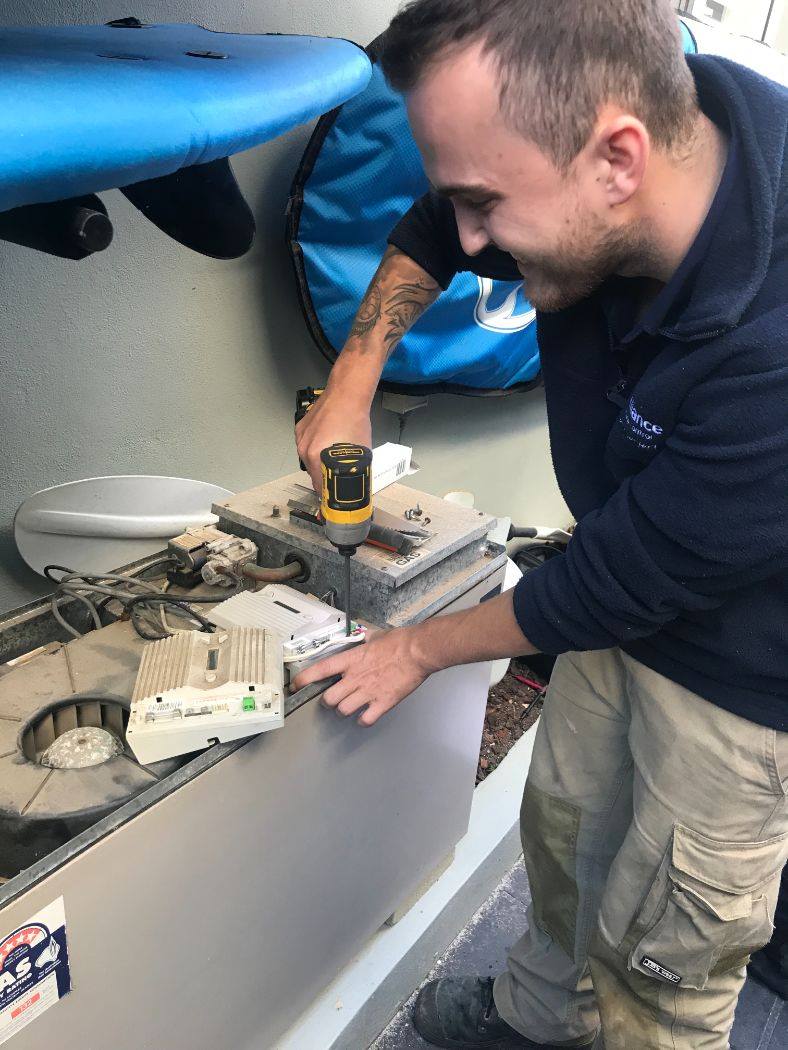 When the team at Alliance Climate Control comes to your home, we start every heating maintenance service with a thorough inspection. We'll make sure that all components are in good working order, and look for any hidden signs of wear or damage. 
Ducted gas heater servicing includes: 
Carbon Monoxide Testing – We use specialised equipment to test your home for any carbon monoxide leaks. Our carbon monoxide testing equipment is incredibly accurate ensuring any dangerous leaks can be dealt with immediately. 
Fan Assembly Cleaning – Fan assembly systems can build up dust and debris which can lead to reduced efficiency and higher wear and tear. A clean fan assembly is essential to prolonging the life of your ducted heating. 
Flame Sensor Testing – The flame sensor is an essential part of your gas heating system. As part of our gas heating service, we clean and test flame sensors. 
Igniter Adjusting – Keeping the igniter in working order is required for any gas heating system. As part of our maintenance, we check the spark gaps in your igniter and test them to ensure they are working correctly. 
Capacitor Checking – We will inspect the capacitors in your system and compare it to the output in your home to make sure everything is running at a safe and efficient voltage. 
Airflow Inspections – Airflow is essential no matter what type of heating system you have. As part of our service, we inspect ductwork to ensure there are no blockages or faults impacting efficiency. 
Return Air Filtration & Grille Examining – The return air filters and grilles are another component that can get dirty and clogged over time which will reduce air flow and efficiency. We also treat these parts to prevent bacteria build-up. 
Voltage Testing – We use voltage testing units to ensure your gas heating unit that they are not overdrawing power. We can also test to see if an older system is drawing an unusual amount of power. 
Mounting Inspections – We check the mounting level of your heat exchanger to ensure it's properly and safely installed. 
Thermostat Calibration – Thermostats can be incorrectly calibrated due to ageing, upgrades or renovations. We recalibrate thermostats as part of our service to make sure they are working efficiently. 
Flue Connection Inspections – We test the flue connections throughout your home during a service. This is part of the system that will remove harmful gases out of your home, so is critical to maintain. 
Electrical Connection Checking – We will go through and test the electrical connections in your system to ensure they are all safe and working correctly. Addressing wear and tear prevents wiring-related electrical fires. 
Carbon Monoxide Alarm Testing – Having a carbon monoxide alarm in your home is essential to your home safety. We provide carbon monoxide alarm installations, as well as regular testing. 
After the service is complete, we'll give you a full system report of what we found and what was done during the service. This maintenance tune-up report is one of the many things that makes Alliance Climate Control unique, giving you a thorough servicing record and keeping you in the loop every step of the way. 
If there is any need for a part to be replaced, we'll always give you a cost estimate and keep you fully informed of your options. If more extensive gas heating repairs are required, our technician will give you an honest and competitive quote on any work recommended. 
During the service, our friendly team members are more than happy to walk you through what we are doing, and give you advice on how to run your central heating more efficiently. We'll gladly address any questions you have during the appointment. 
Here at Alliance Climate Control, we provide a comprehensive heating service and tune-up, giving you complete peace of mind. When you choose Alliance, our expert technicians will help your system run smoothly all winter long. 
Get in touch to book your ducted heating service with Alliance Climate Control today. 
We Are cm3
Qualified Contractors
Cm3 certification is a Work Health & Safety (WHS) prequalification system. Being Cm3 certified, means our business has demonstrated the highest-level health and safety capabilities as well as having the right insurances and licences to protect our customers. Using a Cm3 certified technician is crucial to ensuring you and your project are in safe and protected hands.
Why Choose Alliance for Ducted Heating
Servicing in Sydney?
Alliance Climate Control are the trusted experts in gas heating in Sydney. All of our team are licensed and qualified, with years of experience performing quality servicing and repairs. But not every technician is familiar with all models and brands, and not all have the same level of expertise. 
As a result, choosing the right gas heating professional is crucial. Poor quality gas servicing is a common cause of costly repairs and replacements later down the track. 
Small issues can be missed by an inexperienced gas heating technician, and these can cause huge issues if overlooked. Some of these issues can include:
Faulty thermostats – A faulty thermostat can cause your gas heater to turn off and on frequently, leading to more expensive energy bills.
Damaged heat exchangers – A damaged heat exchanger can lead to carbon monoxide leaks, putting your family's safety at risk. As this usually occurs between services, it can also hide small leaks which are very dangerous without any visible signs.
Clogged venting ducts – If the venting ducts throughout a house get clogged up with dirt, waste or other debris (such as particles from smoking) then the overall efficiency of your heating system decreases considerably.
Having your system serviced by a reliable technician is the only way to ensure you won't suffer from any of these issues. Because poorly serviced gas systems can be dangerous, you need to work with a technician you can count on to keep your family safe. 
That's why so many families turn to Alliance Climate Control for gas heating servicing in Sydney. We're the trusted name across Greater Sydney, and we provide a high-quality service at accessible prices. 
Don't risk using any other company – give Alliance a call today to book your next gas heating service and tune-up.
Our Gas Heating
Maintenance Services
Proper servicing and maintenance can mean the difference between a heater that lasts for years and one that needs to be replaced prematurely. If your ducted heating system hasn't been serviced in the last 12 months, don't wait any longer – contact Alliance Climate Control for your booking. 
At Alliance Climate Control, we provide a wide range of gas heating services to help you keep your system running in top condition. From annual check-ups to servicing and maintenance tune-ups, we can help with all your ducted heating needs. 
Here at Alliance Climate Control, we're dedicated to helping you keep your home comfortable and safe. To book your gas heater service, get in touch with our team today.
Schedule an appointment with
one of our specialists today.
What Our Community
Is Saying About Alliance


Excellence
based on 1300+ reviews
My journey with Alliance Climate Control commenced with a knowledgeable consultation led by James. His detailed insights provided a solid foundation for my decision-making process.The transition from consultation to installation was remarkably

...

smooth, guided by James' expertise. Shannon, the customer care representative, provided proactive support, ensuring a seamless experience throughout.On installation day, the team's communication was clear regarding their arrival time. BJ, Mahran, Aaron, and Peter executed their tasks flawlessly, prioritizing both precision and the protection of my property.Alliance Climate Control delivered a superb experience – from detailed consultation to flawless installation and attentive post-installation follow-up. For top-notch climate control solutions and outstanding service, go with Alliance Climate Control.

read more
Offered me a very competitive price for the 3 zones ducted system. Installation is on time and done professionally
Good price and a great system, but communication was tough and noone came when they said they would so it took quite a while to complete. Overall it's a great system and I'm extremely satisfied
I want to thank the team (James, Shadi, Steven, Antony and Tomas) for their excellent job. They not only installed for our property a ducted air con system that other companies had deemed as impossible but also worked professionally with us to

...

ensure that we were satisfied with very details. It is the best service I have ever received and I definitely recommend the team to others.

read more
Liam is super knowledgeable, on time, and friendly. He has a serviced our units 2 years in a row now, hope to have him back next year too!
Fantastic service and communication. Thank you!
B.J, Mahran, Oscar, Chris and Daniel were great. We had them install AC in 3 rooms. Very friendly and professional. Really appreciate also changing the colour of the pipe for us in the lounge to match our white walls. Highly recommend.
Gabriel was right on time,very polite and professional,servicing my Brivis Gas Central Heater System.Highly recommended.
We has a great experience with Alliance Climate Control. From the initial discussions with Zac, a detailed quote from James factoring in our unique situation, to a quick and efficient install by BJ, Mahran, Oscar, JJ and Peter, everyone was

...

flexible, professional and delivered a high standard of service.

read more
The team at Alliance were excellent, easy process from consultation through to installation. Very friendly
Professional, know what they're doing, careful in what they do and always clean up after themselves
Highly recommend Alliance to anyone wanting Air con at home.They are very organised, communicated well throughout the whole process, were hard working, did what they promised and best of all did a high quality job that was very neat and

...

professional.

read more
The team from Alliance Climate Control probably answered all my questions and kept me fully informed every step of the way. The team were incredibly polite, turned up when they said they would and did a terrific job. And then they took all the

...

rubbish away. Yahoo. Excellent!

read more
Friendly, patient and helpful. Excellent!
Matt Anderson & his dependable colleagues, Felecio and Eunos were professional in their interactions with us during their time replacing / installing the new bedroom aircon unit. They were punctual, reliable, setting their high standards in

...

workmanship, and showing that they cared about every aspect of their job. We would highly recommend this team & company for any future similar jobs..

read more
Chris and the team took on a niche home networking job for me to cable up 12 runs across 5 rooms. Fully accredited cable installation, fantastic cable management and wouldn't rest until all cables were terminated at the patch panel and fully passed.

...

I couldn't be happier. I've used Alliance before for all the air-con units in the property and they came through again for a slightly different job than the norm. From the start I was consulted with on different options, fantastic communication throughout and an absolutely stellar end result. Massive thank you to Chris who was present throughout and handled the job with ease, though I know it wasn't simple. Thanks again team!

read more
Difficult job, but fantastic result.
This is the second time we've used this business. Excellent service from start to finish. Very happy to recommend them
Adian and his offsider (apologies forgot his name) were the most professional tradesmen to ever put foot on my premises. Nothing was a problem for them and they made us feel most at ease. Because of these two I would always recommend Alliance air

...

conditioning to anyone. They were a credit to their organisation. 5 stars.

read more
Alliance technician Hamid came to our home & thoroughly diagnosed the issues with our 8 yr old aircon system which required parts and cleaning. Hamid returned a few weeks later to complete the work to our total satisfaction. It was not cheap costing

...

over $4000 but the mould & dirt that was extracted from our 5 units was incredible. Extremely satisfied & will call Alliance/Hamid & his partner back every 12 mnths from now on.Heather & PeterKingsford

read more
The ACC team did a fantastic job installing our multisplit in our apartment.Aron, Andres R, Ivan T and Tommy produced high quality workmanship and consulted us where we wanted all parts located.My favourite aspects were that they made it look

...

good (minimising visual impact) and cleaned up after installing.I'm so happy we heard about them from neighbours. I would definitely go with them again if we needed aircon in the future.

read more
Great experience with Alliance Climate Control. They were very professional from the first point of contact all the way through to the installation. I would highly recommend them to anyone.
Andres and Ivan were professional, respectful and ensured that area was protected during work. And they cleaned up well at end.
Polite, efficient service.
Great experience with Alliance, have used them a few times now and always a high quality job
Hamid from Alliance was very thorough in his investigation of my HVAC issue. He checked and tested the indoor and outdoor units after he got my AC working again and was overall very pleasant to deal with.
Andre & Ivan were on time, polite, informative and installed the units as discussed and agreed, then cleaned up thoroughly when done.Great job..thanks guys.M&J
Alliance were excellent to work with, particularly as this was the first time I've had to install air-conditioning. James Greene managed my job with great attention and communication and the installers, Aidan and Mado, and electricians, Aaron and

...

Peter, were efficient while ensuring the job was done with quality in mind. I wouldn't hesitate to use Alliance again.

read more
Liam was prompt, knowledgeable and explained all the steps of what he was doing with photos along the way. Very impressed.
Fantastic service - prompt, clean and did an excellent job. B.J., Mandan and Oscar who did the work, James who did the quote, and Shannon & Zac in the office were all great and make the whole experience easy and pleasant! Will definitely call them

...

again!

read more
on new air con installation*
Limited time only, offer ends . Not to be combined with any other offer
*Offer to be presented at point of booking or sale.