Heating, Cooling & Electrical
Schedule your appointment
Gas ducted &
Air conditioning
Residential & Commercial air conditioning sydney
All air conditioning & gas heating maintenance repairs
Indoor air quality
services
All service & repairs, power, lighting, switches
Instant hot water, electrical tank service & installation
How can we
help you today?
At Alliance, everything that we do revolves around our culture of trust, accountability and passion for our work. We want our customers to do business with us because they believe in the standard that we believe in and won't settle for anything less. We believe in doing thing the right way, not the easy way!
This greater sense of purpose which we all strongly believe in across our organisation has allowed us to contribute the best of who we are towards our trade.
Our goal is to bring true meaning to the words help and serve, bring real meaning and true value behind what we do, help and service not only our community but our team. How? by putting you our customer and our team first.
Why our community trust Alliance?
With over fifteen years' experience in residential air conditioning installation, gas central heating, and electrical installation, Alliance has been offering services to our local community and Sydney wide.
Standing behind the comment of "going above and beyond". We do what we said we would do, when we said we would do it, the way we said we would do it. Making sure we are easy to do business with.
If you need a reliable local technician for assistance, speak with one of our friendly and professional team members.
We're here to help for Air Conditioning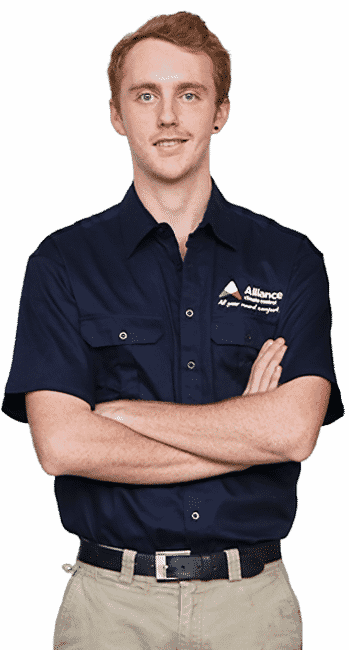 We do what we do because we're inspired and committed to setting a new standard of excellence across the industry. Standing behind the belief of "going above & beyond". We do what we said we would do, when we said we would do it, the way we said we would do it. Making sure we are easy to do business with.
Be recognised as a major leader in our field by providing a service at the highest level to our customers and the community. Committed with a trained team to deliver and raise the standards within our industry while exceeding our customer's expectations with unrivalled personal service and care.
Deliver a service that creates life-long customer relationships, not just transactional ones. We want our customers to do business with us because they believe in the standard that we believe in and won't settle for anything less.​
Air Conditioning Sydney
Maintenance the Right Way
When it comes to Air conditioning maintenance, we make sure your air conditioner received a complete Tune-up every time.
Other technicians overlook the critical parts during maintenance, leaving hidden surprises unfixed, only to realise when you turn on your systems during that Hot summer day or cold winter night. 
An Alliance technician will provide you with a complete report on each visit, explaining all options and uncovering any costly future breakdowns. They will ensure everything is covered the first visit, avoid any expensive future revisits, that's our guarantee! Learn more about air conditioning maintenance.
Alliance Care, 5 Year Warranty*
With a Maintenance Agreement Plan your new asset is protected for a total of 5 years on all installation warranty.
Maintenance Tune-Up will ensure your system is kept in pristine condition year after year!
100% Satisfaction Guarantee
We offer a 100% service satisfaction guarantee on all work performed.
If you feel that the service was not provided to your full satisfaction, within 12 months to date of the original visit, we encourage you to call us so we can make things right!
We provide a written, guaranteed investment cost for your repair(s) or installation(s) before performing any work.
If any additional materials, parts or labour are required to complete the work, there won't be any additional costs to you, unless otherwise stated on the invoice and authorised by you. Also, we will never leave your job for another project without finishing your repair or installation first.
The bottom line is that we will protect your home. If we dirty it, break it or damage it, we'll make it right. Our company is fully licensed, insured and we pay workers compensation for your protection.
Is it important to you knowing that, if something happens during the course of the job that damages your property or a worker gets injured, that our company will take care of it for you and shield you from any liability?
Installed 10,000+
New Air conditioning units

Replaced over 10,000+ 
Air conditioning units
Maintained 15,000+ 
Air conditioning units
Help over 15,000+
Awesome customers
Trusted team 30+ Air conditioning, Electrical & Plumbers
Combined 100+ 
years experience
Specialist Dealer & Partners
With any service performed*
Limited time only, offer ends .
Not to be combined with any other offer
*Offer to be presented at point of booking or sale.
Schedule your
appointment
Frequently Asked Questions
What is the best air conditioning system on the market?
The best air conditioner in the market is entirely based on your preference and your home's requirement.
What size do you need?
How much will it cost to run?
What is the initial installation costs?
Our technicians know and understand air conditioning systems from a large variety of brands. We are authorised dealers of many leading air conditioning brands such as Daikin, Actron Air, Fujitsu, Brivis, Mitsubishi and more. This means that our technicians are qualified to assess, plan and install the most suitable air conditioning solution for you in your home or business. Plus, we also receive exclusive deals and competitions directly from each brand on all their air conditioning systems.
Most importantly, we receive regular and specialised training to make sure our installations are picture-perfect and industry leading.
What type of air conditioning system is right for my home?
There are several factors to figure out what the best air conditioning system is most suitable for your home.
These includes:
Your budget
Functionality of the AC
Any allergies/respiratory concerns
The amount of rooms
The size of the rooms
Our air conditioning technician can provide you with a complimentary, obligation-free quote to identify the best air conditioning for your home or business. This includes a heat load calculation, space inspection, and efficiency study.
Why do I need to service my aircon, it's just a filter clean?
IF IT AIN'T BROKE, DON'T FIX IT" - You've heard this saying before, correct? This philosophy doesn't apply to mechanical devices that can actually breakdown, like your air conditioner.
Air Conditioning Maintenance should be done every year around the same time and not on a 'need basis'. This is the best way to keep malfunctions and costly repairs at shore. If you neglect your air conditioner system and skip maintenance, much like your regular dental check-ups, there is a higher chance of it breaking down early or needing major air con repairs.
Often more than half of your energy bills comes from heating and cooling appliances, so it only makes sense to keep your air conditioning working efficiently as possible. In fact, research found that proper and regular maintenance of your air conditioner improves efficiency and reduces energy bills by up to 35%. Plus, most importantly, you and your family will be breathing in consistently health and fresh air circulated from the system.
Senior HVAC Technician Josh - "An air conditioning service is not just a filter clean. It is a full system health check and maintenance covering the indoor unit, outdoor unit and interconnecting services. We strip, clean and inspect each part of the system then test and record all the data on a health report sheet for future reference. The idea is to get the system running as efficiently and clean as possible to save the customer money on running costs and improve the hygiene in their home."
Why do you need to a heat load calculation before my installation quote?
In any room, heat comes from many different sources – computers, machineries, lighting and us, the humans that reside in it. Plus, the sun beaming onto the building, open doors and windows, or areas of leakage in the building can all allow heat to travel into the room. The sum of all these heat sources in Kilowatts tells us the heat load. We use the heat load calculation to identify the air conditioning size needed for your home. The AC's output must be larger than the heat load/heat gain in your home for the AC to work effetively.
Is there an after-care service?
We do have an after-care maintenance agreement which comes in three and five years where your air conditioning's recommended yearly maintenance is sorted.
This annual service will make sure that the effective functioning of your system is maintained.
Plus, when you sign up for the maintenance program you will also be entitled to an extended warranty on the installation.
What our local community is saying about Alliance