Ductwork Design,
Replacement & Repairs

Air Conditioning
Installation
Air Conditioning
Replacement
Home Duct Work Replacement & Repairs
Duct work is an essential part of your home's ventilation, and simply put it, without it, your Air Conditioning system wouldn't be able to transport air from room to room, ensuring each room has adequate and equal cool or warm air.
Quite often, homeowners don't think about the ductwork component of their Air Conditioning System when it comes to cleaning and maintenance. Therefore, when it comes to caring for it, it is quite often missed. In turn, this leads to compromised Ducting, but diminished overall performance.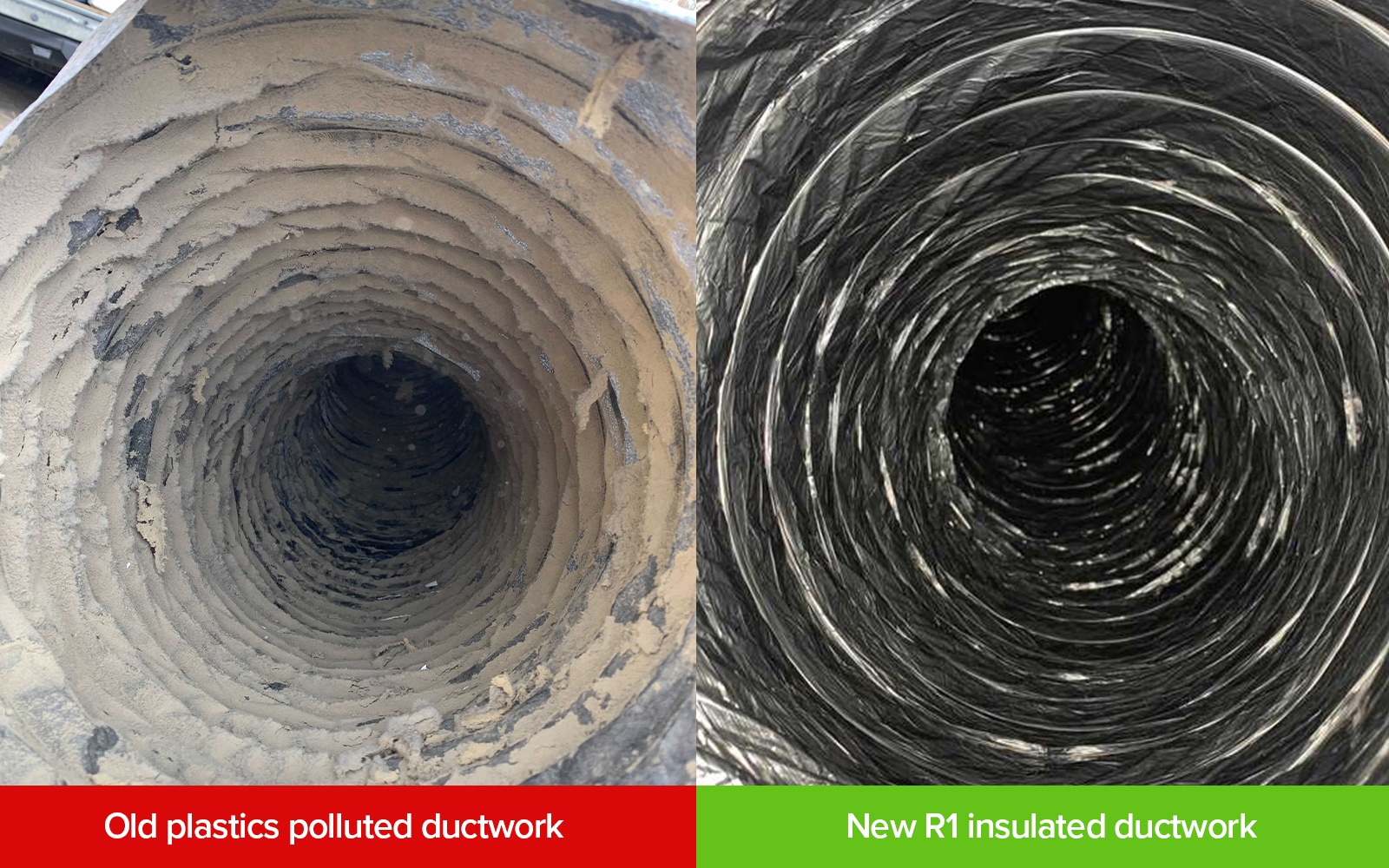 What Our Community
Is Saying About Alliance


Excellence
based on 650+ reviews
These guys are outstanding. Mine was a challenging A/C split system installation, in a long single story terrace with the power board at the front, the A/C to be installed right at the back and blocked in on both sides by next door neighbours'

...

houses. Jonathan and Thomas led a team of about six guys who worked tirelessly all afternoon to get the job done. Cheerful, polite and respectful of my home, and kept me informed throughout the process. These guys, and the company, really care about their customers. I should also mention Ben who came to do the quote and stayed in touch as my primary contact throughout: very professional, knowledgeable and easy to deal with. Will definitely be recommending! N. E. D'Angelo, Bondi.

read more
On the 19th of Jan 2022 an inspection was conducted by Gabriel. He was punctual and did a thorough inspection. He came back with Bailey for the AC cleaning and tune up on the 21st of Jan as per agreement. We have rated both of them 5 stars for the

...

following reasons and base on our observations. Punctuality, tidy in appearance and work, very knowledgable with their trade, well mannered, they did a meticulous job in servicing our AC. Most of all, they were both efficient because they worked as a team. We are a very happy customer. Thank you Gabriel and Bailey.

read more
Definitely recommend using this service, am very satisfied with the results. Thanks Shazim and Liam.
Matthew & Kai installed AC in our house and did a wonderful job, very friendly and prompt service and made sure they cleaned up everything when they finished and that I was fully informed on all functions of the new unit. Great service.
Purchased aircon for partner's parents. They are thrilled! Jonathan and Thomas were great representatives of your company. To quote the in-laws: They were quick, efficient, friendly, polite and knowledgeable about the product. Their home was

...

left in perfect condition. Thank you Jonathan & Thomas!Daisy Benson

read more
Alliance are always professional and easy to deal with - Adrian, Chad and Lachlan were no different. Professional and knowledgeable on what they were doing - whether it was electrical work or AC related, they were all friendly and kept me informed

...

at all times. A pleasure to have in my home.

read more
Great service, aircon unit looks brand new again!
The people from Alliance were an amazing team. Shadi, Andres, Aidan, Jonathan and Thomas were very courteous and professional. The was was performed to a high standard.
We had a new Daiken ducted air con installed. Shadi and Andrios the service boys were excellent on time, professional ,instructional on how to use the system and cleaned up. We could not had been happier. 5 stars
I've been impressed by the professionalism and customer service from Alliance Climate Control from the moment I submitted an online request for quote. Within a few hours I received an email acknowledgement with a timeline to expect a call; which I

...

received the next day to organise a quote. Gabriel and Bailey were polite and professional, and outlined the options clearly - they have great software to email options to you immediately.On the day of our A/C service it was raining, but Gabriel and Bailey took the time to use boot covers, and multiple drop sheets to keep our home dry and clean; they also left our home clean and tidy on completion of the work. Payment options were clearly stated, and the extra repairs required explained, and quotes emailed for consideration. For reference , we had 4 split systems of varying age cleaned and tuned. To our knowledge they hadn't been serviced for a while, and one of them is probably 12 years old. The units certainly look cleaner, smell better, and are working well since the service - Definitely recommended.

read more
Lachlan was very professional and explained everything in easy to understand language and made sure my AC system was running perfect.
Matthew and Kai removed our old ducted gas and ac, and installed a new ducted system. They were always on time, communicated effectively about what they would do, and finished the job in less time than estimated. I was really impressed by the effort

...

they gave to cleaning up every day - you would never know that they'd been in the house! The team made the experience easy - I'd use alliance again because of their professionalism.

read more
Jonathan and Thomas installed a removed an old AC and installed a new one. Great service. reminder call the day before, text to say they were on their way, turned up on time, very polite friendly and professional, job done with no fuss, didn't leave

...

a mess. Thanks guys

read more
Alex phone 30 minutes before arriving. He was clean, masked, very efficient, knowledgeable and thorough.He saw the problem quickly and gave us an easily understood solution.I recommend this company unreservedly.
Allied CC staff demonstrated their knowledge of their product from Ben Revill who quoted on the job, through to Matthew Anderson and his team who installed the system. They were friendly and professional and we would definitely recommend Allied CC

...

to friends.

read more
A few significant challenges but Alliance was both professional and accommodating. Fitters BJ and Dario did an absolutely sensational job. I cannot commend them highly enough for their dedication to getting every detail right. It was a challenging

...

task and Kirk came up with a great solution when other companies said it couldn't be done. As a team they nailed it. The result was just perfect. Thank you!

read more
The Alliance Climate Control team is fantastic. Not only have they been looking after our installation and regular service for several years, but they were able to resolve an aircon breakdown for us within days over the Christmas period when the

...

manufacturer would have taken weeks under warranty. Jamie Lee is fantastic - knowledgeable, prompt and polite. Raj the Service Manager pulled strings to make our repair happen fast. We are eternally grateful as we have a person with respiratory issues in the house and we need to have a functioning aircon system at all times.

read more
B.J, Peter, Adrian, Chad were polite, affable technicians.They showed care and commitment to the job.Very professional.Goran and Zach were polite, easy to deal with and prompt with all communication.Thank you
The alliance experience was sensational, from the time Darko the chief technician inspected my house for ducted airconditioning installation, the smooth and efficient process began.The electrical team lead by Mo installed a whole new

...

switchboard/meter box for the house, and the internal electrical work for the air-conditioning. Their attention to detail, pride in the work ,professionalism and cleanliness was outstanding. Everything was installed precisely and with quality work. Then the detail to ensure everything was cleaned up, meaning if you weren't there you would know tradespeople had been working in your house.The next day the air conditioner installers led by Sam arrived like the previous tradesmen, they were clean, efficient, and committed to consistently high quality work. Darko and Sam went through the job with me before they started to decide locations of vents, the inlet vent and control panel. They encountered some roof issues from the old lath ceiling. Nothing phased them they adapted their work to complete an impeccable installation of the highest quality. Sam's team Andre and Tomas worked tirelessly to ensure every aspect of the work was completed.I would highly recommend Alliance air-conditioning systems to anyone considered such an installation. In fact I have been in this house for 33 years and have done many renovation and maintenance projects and I would rate this company as the best.January 2022Just had my annual service Jake was professional and as per my previous experience with Alliance friendly, well presented , technically experienced and able to answer all my questions.The electrical team also did an inspection Adrian was great professional and happy to help and answer questions .I highly recommend Alliance to anyone they are prompt deliver on their services professionally and in a technically competent way

read more
Dee, Matt, Shardi & Rodriquez installed our ducted air conditioner last week. They where professional and friendly and explained best options for air flow and location of vents etc. nothing was to much trouble for the team and I would certainly

...

recommend them to anyone considering air conditioning in the future.

read more
The whole process was seamless! From quotes and bookings with Kirk, Zac, Joe and installation with B.J and Peter I could not fault them.
Jonathan and Thomas provided a very professional installation and so did John M. and Chris the electricians. Can only recommend their service.
I had Jonathan, Thomas and Mahran install my AC today. They were efficient, polite and cleaned up well afterwards. Have used this company twice now with no regrets. Definitely would recommend!
We had our two split system air conditioners serviced and cleaned. They were pretty gross after not being serviced for 2 years. The guys did a stellar job. They are as good as new! Highly recommend.
Sam, Marty, Adrian and Chris were absolutely fantastic - highly professional, explained everything really clearly and worked through some difficulties, cleaned everything up to a higher standard than it was before and were also all very friendly and

...

easy to get along with. Would highly recommend based on my experience with them and also Goran who did the initial quote and helped provide me with the information I needed. I was referred by a friend who had a similarly great experience. Thank you!

read more
These guys did a good job. Quality installation. No corners cut/professional. Jonathan and Thomas did the installation for us.
Excellent technicians Harry, Andre andMahran. Arrived on time. Efficient and very friendly and polite. Incredible cleanup after installation.Highly recommended.Kind regardsMichael and Gail Bray
Excellent service and quality of installation. 10 months after the install, there was a minor issue with one of the units and Alliance sent a technician who arrived within 30 minutes. The technician, Jonathan, was extremely helpful and had it fixed

...

in 5 minutes. Highly recommended

read more
From the time I contacted Alliance to the completion of a new ducted gas heating system I have nothing but praise for the company and its staff. Initial inspection was done by Jake & Kirk Who provided me with the quote and confidence to proceed with

...

the job. Their office did follow up to coordinate installation date and time of the arrival by the guys doing the installation. The courteous and professional approach by Jonathan Thomas Sam and Peter is a credit to them as representatives of Alliance and having dealt with many contractors in my career and by comparison they are up there with the best, as individuals and as a company in the industry. I would be most pleased to recommend the company and its staff to anybody that wishes to contact me

read more
Gabriel repaired our machine and he was outstanding - neat, organised, friendly, courteous and tidy. would strongly recommend him
Got Alliance to come and install a new split system in the bedroom. They were slightly more expensive than some other quotes but their service was very good and they came across much more professional than a couple of other places I contacted about

...

the installation.They charge a $20 dispatch fee to come and quote your job, but it's credited onto your bill if you go ahead with them - I personally think it's quite reasonable to do that, as a couple of other places just requested photographs, but I feel like a technician coming on site know what they're looking for and can quote more accurately.As for the actual installation, Jonathan and Thomas were on time and extremely friendly and did an excellent job.The the installation was great and they did a very good job of cleaning up after themselves.They also gave us a quick run through of the remote and how best to use the system.They offer a service plan, but they were not pushy at all and left us a brochure to read over so we did not have to decide on the spot, this was good as it avoids a potentially awkward sales pitch in your own home.Alliance have great technicians in Jonathan and Thomas and I'd use Alliance again in future and would recommend them to friends.

read more
Our unit hadn't been serviced in 17 years! The young serviceman was on time, polite and worked hard to get the the system clean, sweet-smelling and the quietest it's been since installation. Would highly recommend
Professional, quick and friendly guys. Jonathan, Thomas and Bailey installed AC in our office and kept any disturbance minimal and made sure we were happy with the result
We are extremely happy with our split aircon. The team were professional, on time, knowledgeable and executed on what was promised.Thank you to BJ, Thomas, Aaron, JJ, Ben, Melissa and Joe.
I would highly recommend Alliance. The Team were very professional from quote to installation. Having had 3 prior quotes and considering who to appoint for the job, it was an easy decision. Albeit a bit of premium to the other quotes, Ben was the

...

only one of the 4 who jumped into the very narrow roof space to provide a full technical assessment of what could be achieved. In addition, he was also able to provide an excellent solution for ducting our living room which the other companies had not considered, or had considers too challenging. However, what impressed me the most is that way the team executed the installation and were able to fix a major unexpected problem (due to the error of another contractor) with true professionalism. Another shout out to Harry and the installation team who were courteous, punctual and easy to deal with. I would not hesitate recommending the team to others.

read more
Shazim was knowledgeable and really professional
Aaron was a lovely knowledgeable technician. Would recommend Alliance.
Sam, Andreas, Dan and Ewan were very professional, thorough in their approach towards our AC Installation. The boys worked well all day. And did a 2 day job in One day. Which was much appreciated by my family and it showed much understanding on

...

their part. Thank you.Yours Sincerely,Jasveen P.

read more
Sam, Dee and Rodrigues did a great job installing the ducted system. They were professional, responsive and left the place clean and organised. Recommending three of them
I always appreciate dealing with Alliance CC as they always let me know what is going on. First up Goran arrived on time to do the quote for a airconditioning unit in my 93 year old mothers room. This was done professionally. Mellisa keep me upto

...

date with the booking time and notified me if any delays had happened on installation day and when the installers would call me. Sure enough the installers BJ and Peter called and turned up when they said they would. Once at my place they took great care to keep the room clean and did the job expertly and efficiently.Highly recommend Alliance for anyone who want a profession and friendly company

read more
Very obliging guy who communicated well and with advice that worked for us
Jonathan and Thomas were very friendly efficient and helpful during the installation process, would highly recommend.
Had a great experience with Gabriel and Liam, the assessment / quote was thorough and Gabriel made sure we had a shared understanding.The installation went well with the team completing the work in the time they said they would, and they cleaned

...

up after themselvesThe whole process was nice and professional with clear understanding and everything running on time ( and they were able to do the job nice and quickly after installation)

read more
The technician was able to undertake a full clean and service on the day as he recommended on inspection. It was a big job taking several hours and has been very effective in reducing the noise in the older unit. I am confident that both AC's he

...

serviced will run better and cleaner now.

read more
The team Jonathan, Peter and Aaron were delightful. Polite ,honest and knew what they were doing. They were accommodating and very clean and tidy. Highly recommend this team.Lindy Wright (Balmain)
Really impressed with the service and professionalism. Lachlan was very polite and knowledgeable. He spent the time explaining what he was doing and why. Would definitely recommend and would use Alliance again. Thank you.
Sam, Aidan, Rodriguez, Jonathan and Peter did a great job removing our faulty ducted system and installing a new ducted aircon system in our unit despite the many challenges they had to overcome with limited spacing etc. they were professional and

...

their workmanship was great. We are glad we chose to go with Alliance. Thanks!

read more
The team at Alliance are absolute gems. From the moment we made a simple phone call to make a quote enquiry, to the last second of the installation, service was impeccable! We had absolutely no knowledge whatsoever of air conditioners and so the

...

team were really patient in responding to all our questions and took the time to really explain everything to the smallest detail. Ben was so prompt in providing a detailed quote and was so reassuring of Alliance's service ability, that we did not even bother to seek quotes from other vendors. And we were not disappointed at all! The installation team Aaron, JJ and especially B.J. and Thomas were punctual, worked tirelessly and moved so quickly over only 2 half days to install 4 systems, not to mention also having to battle the rain installing the outside units as well. Mellisa and Joe also helped make the instalment payments a very smooth process. Will definitely be recommending Alliance to all our family and friends and will use them again if we ever move house!

read more
Marcus was extremely professional and courteous and cleaned up after he left
We've had Aaron for a service and Johnathan and Peter for an installation. First class service. Thanks guys. Highly recommended.
Really solid AC install from Dario, Matta and Tory. Professional and courteous, great attention to detail with colour matching of the external works (conduit piping etc) to the paintjob.
The split AC I have in my clinic stopped blowing cold air so I called to have it diagnosed by Jamie 2 weeks ago. He noticed a gas leak and explained a short term and long term solution with pros and cons. I'm glad he was honest and thorough so I was

...

happy to take the Daikin model he offered. Although costly, I rather have high quality lasting for more than 15 years than to have it break down sooner.Today, Jonathan, Peter and Christian worked really hard to replace the outdoor and indoor unit along with other electricians to help. All was done in half a day. It must've been really tough doing all this without breakfast or lunch.It was convenient of them to use their heavy duty hand trolley to pull out the washing machine and put it back in after finishing. Jonathan did some extra work to separate pipes and cables from other business tenants AC. It was nice of Jonathan to thoroughly explain to me the possible AC replacement issues (still managed around it), AC controller's different modes, provide me with a manual and offer me maintenance agreement plans along with convenient fridge magnets of the business. Thanks for the hard work guys! My clients and therapists will really appreciate the cold air this Summer.Kind Regards,Hussein

read more
B.J., Dario, Kirk, and Darko installed our air conditioning today - they were respectful, quick, and left everything clean. We're ready for the Aussie summer! Thank you
I ordered 4 brand new indoor AC units and a single outdoor unit installation from Alliance Climate Control. From quote to installation the guys were extremely professional with competitive pricing. Big shout out to Sam, Rodriguez and Dario for the

...

speedy single day installation and taking extreme care during the entire process. Highly recommend and amazing work guys!

read more
Alex visited my place to inspect a broken AC. He was very professional, courteous, and helpful. He went above and beyond to ensure customer satisfaction. I ended up ordering a new AC to replace the broken one after some discussion with him.
Very happy with the service and the workmanship done by Jonathan and Aidan.
Very helpful and professional
I could not recommend Alliance Climate Control enough. They were on time and very reasonable with cost. They did a very thorough service on our ducted air conditioning. They also replaced our ducting and we had them hang it up off the rafters in the

...

roof. The installation of the Air Touch in which all our rooms are zoned separately is fantastic. Bailey and Lachlan were very tidy and they left the home as clean as it was when they arrived. Very polite and explained everything I asked perfectly.

read more
It's very professional work done for the ducted air conditioning installed. Especially thanks three technicians, Kevin, Mario, and Thomas. After the work, they also clean the floor and take away all the rubbish.
Shazim came out gave me a quote on time and the day he said he would be there. Rather pricey however the service provided was one of the most professional i have experienced. Shazim arranged a date and time to install outlining exactly what would be

...

done. Jonathon, Mahran, Lachlan attended the installation along with Shazim. As the job was going I was updated as to the steps that were being taken along with options (my preferred options) to how I wanted the installation and advised what can be done. John was great and in hindsight I probably should have gone with the position of the unit as he advised however i choose my way. Overall the installers were absolutely fantastic and easy to work with. Most professional service I have had. I waited a couple of weeks to do my review because I wanted to see if there were any issues I couldn't see. Im a happy customer and although it was a premium price the service was spot on and I would without a doubt recommend this company to anyone. The team sent to my place that day were excellent. Note to John "you were right I wish I took the aircon over to the wall 5 inches" but my room is like the ice box I requested. Thanks

read more
Very responsive team and great at what they do.Our go to technicians.
Jake and Cody were on time, respectful and explained everything to me.
The 2 employees, Jonathan and Peter were very courteous, neat and on time.
Jonathan and Peter from Alliance Climate Control did an excellent professional job. Highly recommend them
The Alliance Climate Control team has been so professional from the quote to installation. They live out their company philosophy of 'doing the right way, and not the easy way', gives me the confidence that I can trust the finish work to be at its

...

best. A special SHOUT OUT to the team: To Goran for his professional and expert opinion, the 'solution approach for nothing too difficult' for what other companies had said 'no', he said 'yes, we can'. To Dario and Matt for their professional work, and commitment to find solutions that would satisfy the customer, and for their hard work to finish a quality completion, even though it was late in the evening, and they had to go back to their families and have a late dinner. That takes a great amount of commitment, great attitude, customer centric service and reliability. I wanted to especially call out the excellent work that Dario did (post installation) to rectify a cosmetic issue that he creatively found a solution for. To John and Chris (Electricians) who also delivered a quality work to the detail (which every customer wants) to ensure safety. John was very generous, to find the root problem of an issue and resolved it for me, as a result of his safety inspection. The ONE STOP solution that ACC offers for the installation is what make the experience so easy and amazing. THANK YOU guys!!! This is why I am happy to participate in your Care Program.

read more
Very good service! We had A/C installed. Jonathan and Peter turned up on time, kept me informed and explained everything on our new A/C. Thank you, appreciate the great service 🙂
Shadi & Dario really done a very good job. Also the crew worked along with them have done the good job too. I will recommend this crew and the company for my friends and relatives for any electrical and air-conditioning jobs.
I had Alliance Aircon perform a ducted installation late last year. There were a few things I wanted rectified, based on the initial layout of the ducted system not performing as expected, and a faulty Mitsubishi controller that was buzzing (under

...

warranty). Given the lockdowns/impact on business, I waited until there was a convenient and safe time for them to come back out. I have to say the job that Sam and Aidan did was absolutely first class. I cannot speak highly enough about their attention to detail, and care in making sure the issues were professionally/technically resolved. If you are going to have an installation done - you must ask for Sam and Aidan. Sam is a real asset to the company and really knows his trade. I highly recommend Alliance for your ducted needs - they really didn't give up until the job was done to an exacting standard given it was a large ducted system.

read more
Everything was done very professionally
Jonathan and Peter were efficient and professional.
Jonathan and Peter did a great job installing our new air conditioning system. They were very professional and kept us informed on what they were doing and made sure it met our expectations
Gabriel and Liam were professional, courteous and did a wonderful job servicing our air conditioner. Thank you.
Very good service. Technician was courteous, helpful, efficient.
Excellent service. Very thorough, unfailingly professional and courteous as well as Covid safe.
They might not be the cheapest in the market but they definitely deliver a top service from quote to installation and cleaning :)BJ, Thomas, Goran, Johnny and Mellisa have provided us with the best service in a very professional and friendly

...

way.They've also paid special attention to our cats during the work to make sure they would not run away! Thansk for the extra care 🙂

read more
Jonathan, Peter, Adrian and JJ installed a couple of air conditioners at my home. Polite and professional, they consulted me at each decision point, offering options and recommendations during the installation process. I highly recommend them.
Signs it's time to replace your Air conditioning ducts
Benefits of replacing you Air conditioning ducting
Some of the key benefits include:
If you have queries about the status of your ducting, whether or not they require replacement, or need to book in a service and precautionary maintenance, please do not hesitate to get in touch with Alliance Climate Control today.
With over 15 years' experience and a 4.9-star Google Review Rating, our licenced, qualified and expert technicians are here to help you!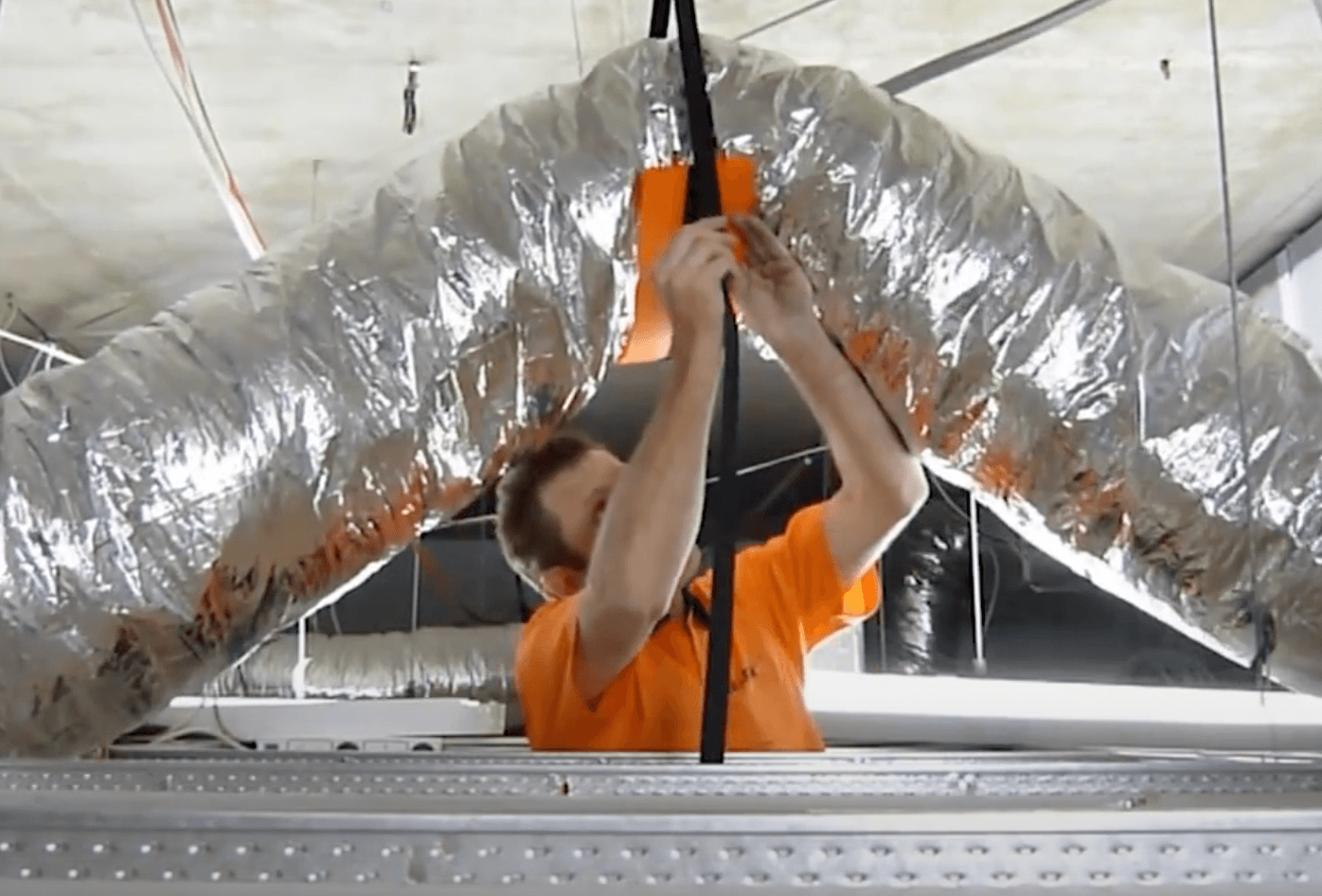 Home Air conditioning duct replacement & repairs
Alliance Climate Control is licensed and qualified to take care of your home Air Conditioning should you need to repair ducting for your air conditioner. Our licensed Air Conditioning technicians have years of experience thoroughly inspecting different types of systems and re-gassing them responsibly.
With any service performed*
Limited time only, offer ends .
Not to be combined with any other offer
*Offer to be presented at point of booking or sale.
How Can We
Help You Today?