Local Air Conditioning Installation​ - Inner West Sydney
100% obligation-Upfront Quote from qualified and licensed technicians
A fully tailored, obligation-Upfront Quote will be provided to you on the spot
A full heat load calculation, space inspection, and efficiency study
Picture Perfect Installation
Every detail matters​, indoor, outdoor unit, trunking, controls and all accessories will be perfect
With over 15 years of top-quality air conditioning services in the Inner West's, Alliance Climate Control is the leading expert on air conditioner installation for your local area. Our team of locally-based technicians are pioneers in the HVAC industry, dedicated to ensuring that each customer's needs are met and exceeded through our fantastic service.
Every member of the Alliance family are experts in air conditioning installation, but our experience in servicing the Inner West area makes Alliance Climate Control the perfect service for your home or office. With intimate knowledge of the local climate, you can rest easy knowing that we'll find you a tailored air conditioning solution.
We don't just serve residential clients either, our services are available for any commercial space.
If you're looking to update your air flow, look no further than Alliance Climate Control. Not only are our quality air conditioning products more energy efficient, but they'll also provide you with the optimal temperature inside, no matter the weather outside.
Schedule an appointment with
one of our specialists today.
Which Type of Air Conditioning System is Best for Inner West Sydney?
Whether it is the unbearable heat of Australian summer, or the surprisingly cool winter nights, it is not uncommon to look for a one-size-fits-all solution for temperature control. However, there isn't a singular air conditioning unit that'll provide optimal air flow in both a residential and office environment.
Rather, you'll need to consider the environment around you to be able to choose the ideal air conditioning unit for your space. To help narrow down the best option for you, begin by asking yourself these questions:
For more information on finding the right air conditioning system for you, read up on our guide to choosing the right AC size, or give us a call!
Choose From Our Wide Range of Air Conditioner Types
At Alliance Climate Control, we have a wide range of air conditioner types well-suited for any space. You can pick from the main 4 unit types:
We service these air conditioning variants and more:
Schedule an appointment with
one of our specialists today.
Air Conditioning Services We Offer in the Inner West
When it comes to Inner West air conditioning, Alliance Climate Control has plenty of dedicated professional services on offer, including:
No matter where you are in Sydney's Inner West, our whole team is ready to provide their expertise to residential and commercial spaces alike.
Searching for qualified air conditioning installation in Sydney's Inner West?
Our expert team of air con installers have in-depth knowledge of the Inner West area, including its climate and humidity levels, to provide you with the service you deserve.
Our technicians are some of the best in the business, backed by 15 years of Alliance Climate Control's own expertise. We provide regular in-house training to keep them on top of the newest innovations and market developments in HVAC. This ensures that your air conditioning installation is top-notch and ahead of the market than most air conditioning service competitors.
Here at Alliance, we pride ourselves on our culture of passion, accountability and, most important of all, trust in our work. There should be no doubt in our customers' minds about the quality of our services, and we want each and every person to believe in the standard that we set for ourselves and our workers. That's why we supply the most essential part of any good business partner; life-long partnerships with our customers. After all, the install process should always be about the customer, not the costs.
Major Brands and Direct Partners We Work With​
Alliance Climate Control is partnered with all the major brands in climate control, making air conditioning in the Inner West possible.
Suburbs We Service in Inner West Sydney
Alliance provides great service to the entire Inner West area, including the surrounding suburbs. In the case that your suburb isn't listed in those that we service, gives us a call and we'll be more than ready to head on out for a consultation.
Annadale, 2038
Balmain East, 2041
Balmain, 2041
Birchgrove, 2041
Camperdown, 2050
Dulwich Hill, 2203
Enmore, 2042
Erskineville, 2043
Haberfield, 2045
Leichhardt, 2040
Lewisham, 2049
Lilyfield, 2040
Marrickville, 2204
Newtown, 2042
Petersham, 2049
Rozelle, 2039
St Peters, 2044
Stanmore, 2048
Sydenham, 2044
Schedule an appointment with
one of our specialists today.
We're Here To Help With All Your Air Conditioning Needs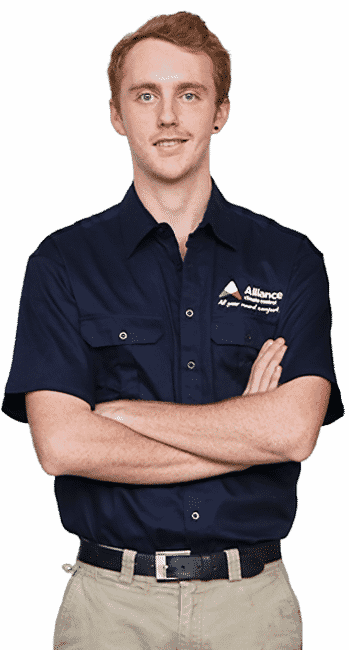 When you book online,
on service work*
Limited time only, offer ends .
Not to be combined with any other offer
*Offer to be presented at point of booking or sale.